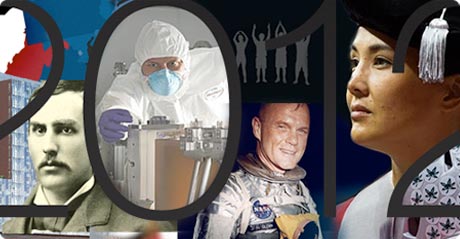 2012 year in review
Last year, Ohio State alumni and students competed in the Olympics. Faculty stars Lonnie Thompson and Ellen Mosley-Thompson were recognized as Franklin Medalists. Students shared their research with President Barack Obama. Alumni created a new Pixar movie, Brave. Buckeye fans welcomed Coach Urban Meyer, then celebrated a 12-0 season.

Relive Ohio State's 2012 highlights, including the launch of the university's $2.5 billion But for Ohio State campaign.

We can't wait to see what Buckeyes do in 2013!
Resolution: health
Zero waste
When 105,330 football fans gather to watch the Buckeyes, they create a lot of waste material—an average of 16 tons per game. Fortunately, more than 90% of these materials were diverted from the landfill several times this season, achieving Zero Waste.

Read about the national award these sustainability efforts earned. Learn more about Zero Waste at Ohio State.
Snow days
Growing aggression
Shooting guns, stealing cars, attacking assailants: when these activities take place virtually, there aren't long-term repercussions in reality, right? Wrong, say Ohio State researchers. A recent study finds that repeated exposure to violent video games leads to aggressive behavior.

Discover why playing violent video games is like smoking cigarettes.

Share your pride

O-H-I-O: Good dog!

The first trick alumna Lori Geier taught her golden retriever was how to join the family in sharing Buckeye Pride.

January 2013