A healthy new year
A new year presents a new opportunity to improve your health and wellness, and Ohio State is on the front edge of creating a healthier world.
Researchers at the university are tackling the topic of better health from a number of angles. Whether it is working on relationships, improving your exercise regimen or untethering from your mobile devices, Ohio State researchers are discovering ways you can live better. And Ohio State's chief wellness officer Bern Melnyk is sharing many ways you can improve your physical and mental health.
The university also is endorsing healthier lifestyles by making the campus tobacco free beginning January 1, 2014. Learn more about tobacco-free Ohio State and what it means to you.
Stay connected with Ohio State
'Summer's heat or winter's cold'

A harsh winter has kept people indoors, but Ohio State's photographers have braved the elements to capture striking images of a campus firmly in winter's grasp. Take a look at these images and remember the times you spent traversing the Oval in Columbus's winter months.
A season to remember

While Ohio State's Orange Bowl loss provided a disappointing end to the season, there were a number of positives that happened in 2013. The team posted a record 24-game winning streak, legendary running back Archie Griffin was honored by the Rose Bowl and the university again proved itself to be the best at diverting game-day waste from landfills.
Vai Brasil!

Ohio State is expanding its outreach in South America by opening a gateway office in São Paulo, Brazil. The office will help the university explore partnerships with universities in Brazil through its Academic Partnership Program. Closer to home, the Wexner Center for the Arts is taking a closer look at Brazil's evolution by highlighting documentaries produced in the country since 1984.
Inflated praise can harm kids

Showering your children with kindness and praise may not be the best way to ensure positive mental health. Ohio State researchers found that adults seem to naturally give more inflated praise to children with low self-esteem. But while children with high self-esteem seem to thrive with inflated praise, those with low self-esteem actually shrink from new challenges when adults go overboard.
What does Ohio State mean to you?

A Good Ride in Life: Cal Wible
"I was grateful and humbled to receive the Mershon Award, although awards are not why we do what we do," says Cal. "It's because the work needs to be done. With Buck-I-SERV, I can see that we are creating a better future."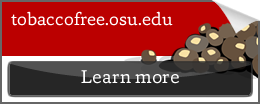 Share your pride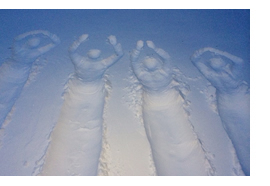 SnOw-H-I-O
Snow O-H-I-O from Buckeyes in
New Hampshire.