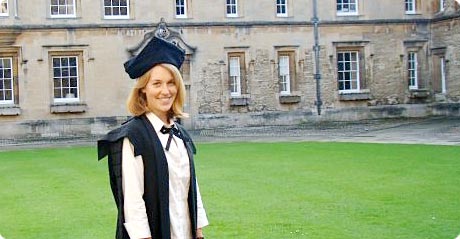 Rhodes back home
Alumna Jessica Hanzlik's Rhodes Scholarship has given her confidence to speak out about an issue close to her heart: women in science.
Hanzlik recently came back to campus from the University of Oxford, where Rhodes Scholars study for two years, to speak at the Midwest Women in Physics conference.
Find out how Ohio State support helped Hanzlik achieve her goals.
All in the family
| | | |
| --- | --- | --- |
| | | The men's and women's basketball teams have a lot in common: Both seasons are heating up, both teams are likely to get invited to the big dance, and both teams get by with a little help from the Hills of Minnesota—siblings Tayler and P.J. |
Design in space
| | | |
| --- | --- | --- |
| | | Monica Okon is working on design that defies gravity. The senior engineering student spent the summer interning at NASA's John Glenn Research Center in Cleveland. Her challenge: designing a toilet that works at zero gravity. |
Crunching calories
| | | |
| --- | --- | --- |
| | | When restaurants provide convenient calorie information, consumers tend to opt for low-cal items, according to an Ohio State study. Turns out ignorance is not bliss: an extra 172 calories a day over a year can pack on 10 pounds. |
Eye-wise
| | | |
| --- | --- | --- |
| | | Wearing sunblock during the winter is just as important as during the summer. And it's not just your skin that you need to protect. Ohio State researchers point out that UV rays can lead to cataracts, the most common visual impairment in the world. |
Share your spirit

O-H-I-O: Row, row, row your boat.

The Ohio State rowing team practices in Miami, Florida.

February 2010
In this issue:

Ohio State on: