A Buckeye welcome
On January 30, Ohio State introduced Dr. Michael V. Drake as the university's 15th president.
President-Designate Drake is currently chancellor at the University of California, Irvine, and will begin his term as Ohio State president on June 30. He brings with him an impressive background in academics, health sciences management and alumni engagement.
Drake's first official visit to the university gave him an opportunity to meet with students, faculty and members of the broader Columbus community. Take a look at his whirlwind trip on campus and see how members of the Buckeye family welcomed him via social media.
Stay connected with Ohio State
Ohio State on ice

Ohio State's hockey programs have left a mark on the 2014 Sochi Winter Olympic Games. Former members of both the men's and women's hockey teams played prominent roles for various countries in the Games. Learn more about these athletes and their playing backgrounds.
Points of pride

Each month, Ohio State brings some of the most exciting and interesting university accomplishments to you via High Points. In this edition, learn about a breakthrough in Alzheimer's disease, the university's growing list of patents and how it helped the NFL's Cleveland Browns.
The long road to a degree

A little more than 73 years after enrolling at The Ohio State University, Ted Chandler received his Bachelor of Science from the College of Food, Agricultural and Environmental Sciences (CFAES). Chandler's advice to incoming students? "Don't look for the easiest way. You learn more from hard work."
For the kids

Since 2001, Ohio State students have been committed to helping end childhood cancer through BuckeyeThon, an annual dance marathon. This year's renewal had a record result, with more than 3,000 students helping to raise nearly $770,000. Learn more about this effort and how it helps kids.
What does Ohio State mean to you?

Remembering John Mount
The university community mourns the loss of John T. Mount, a beloved administrator, mentor and friend. He dedicated his life to helping generations of Ohio State students achieve their goals. "His legacy will endure for generations," says Interim President Joseph Alutto.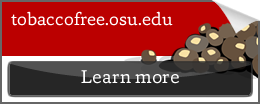 Share your pride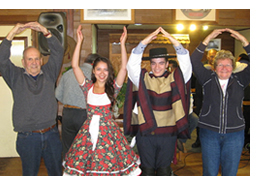 OSU Alumni Tour - South America
Former faculty member from the College of FAES Norm Rask and his wife Martha are with two Chilean dancers during an OSU alumni tour to South America. The group was treated to an afternoon of Chilean music and dance while in Puerto Varas, Chile.