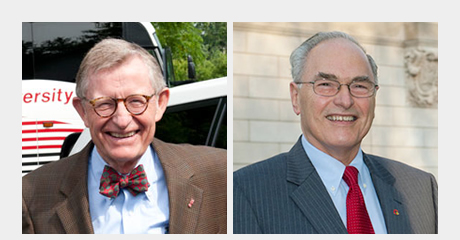 Time and change
After six years with President E. Gordon Gee at the helm, the university will continue its march to eminence under interim president Joseph A. Alutto--now Ohio State's executive vice president and provost. Gee, who retires July 1, has been "a transformational leader" who has "taken the university to new heights," says trustees chair Robert H. Schottenstein.

Says Alutto: "The grand challenges of today and tomorrow will be confronted and resolved here at Ohio State."

Read about the bold ideas that were the hallmark of Gee's presidency. And find out how Alutto will keep Ohio State's focus "fixed on the north star of eminence."
Epic animation
Buckeye Chris Wedge has won an Oscar, co-founded a film studio, and developed the Ice Age series. Now, he's directed a 3D animated feature, Epic, now in theatres.

Wedge, Class of 1985, is in good company: alumni with ties to Ohio State's Advanced Computing Center for the Arts and Design are major players at places like Pixar, Dreamworks, and Apple. Find out more.
The cost of smoking
From cigarette breaks to extra health care costs, smoking runs up a big tab for businesses. A recent Ohio State study found that U.S. businesses pay almost $6,000 more per year to employ a smoker, versus workers who've never smoked.

Read more about the study.
"One small step"
Ohio astronaut Neil Armstrong's recorded moon-landing phrase is famous: "One small step for man, one giant leap for mankind." The hitch? Armstrong insists he really said "one small step for a man."

New Ohio State research on regional speech styles sheds some light on the confusion.
Brainy Buckeyes

Share your pride

O-H-I-O: London Bridge

Buckeyes from the Class of 2013 share their pride during the Alumni Association's Classic Europe tour.

June 2013