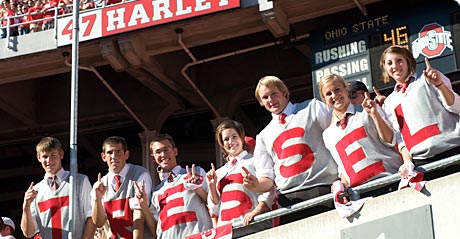 Countdown to kickoff
Buckeye football is less than a month away. And we've got some football news to tide you over till Sept. 2, when the Buckeyes take on Marshall: pre-season video previews from Coach Tressel and quarterback Terrelle Pryor.
Hear what Coach Tressel and QB Pryor think about 2010 Buckeye football.
And see the schedule.
Berry good news
From Ohio to health
Engineering professor Lisa Abrams is riding to celebrate another cancer-free birthday. Nancy Taggart is riding in memory of a 25-year-old nephew, who just lost a two-year battle with melanoma. They're among thousands riding in Ohio State's Pelotonia bike tour Aug. 20-22 to end cancer.

Learn more about Pelotonia and meet other Pelotonia riders.
Skin deep
There's no magic elixir for wrinkles, but Ohio State researchers have discovered an enzyme that may have potential for repairing sun-damaged DNA. The discovery holds promise for future sunburn remedies and skin cancer prevention.

Find out how this enzyme could lead to new treatment.
Royal event
| | | |
| --- | --- | --- |
| | | The Royal Shakespeare Company, in association with Ohio State, is bound for the Big Apple in summer 2011. The theatre company will perform five Shakespeare plays, including an exclusive performance of Romeo and Juliet for Ohio State friends and family, to raise money for the arts. |
Share your pride

O-H-I-O: Four Heismans

August 2010
In this issue: