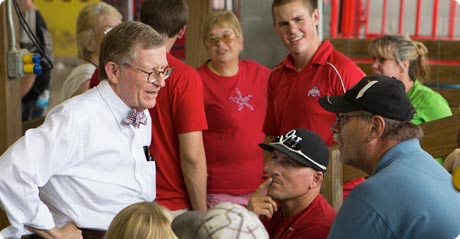 "What I did this summer"
From studying soil in Senegal to touring a mustard factory in Springfield, Buckeyes--including President Gee--stayed busy between Ohio State's last spring quarter and first autumn semester.

The president covered 39 counties in six days, visiting homegrown Ohio businesses such as Snowville Creamery and American Mug and Stein Co. "We go and see things that are real products of Ohio, and real ways for us to fly our flag internationally," says Gee. "It's a way to show the people of Ohio that we love them." Read about his 41-stop state tour.

Meanwhile, students ventured across the country and beyond, volunteering in Ghana, studying in China, and interning at ESPN and Disney. Check out their summer stories, told in their own words.
Strong support
An unprecedented number of donors--211,000 alumni and friends--gave nearly $365 million to Ohio State this fiscal year. It's support that funds scholarships, research, and campus improvements.

Read about donors' generosity--and find out how the Alumni Association is saying "Thank you" to job-seeking Buckeyes.
High energy
At Ohio State, "fuel efficiency" isn't just a trendy phrase. It's the life mission of researchers--and it's a big part of a university-wide effort to study issues related to sustainability.

See the university's first game-day TV spot, focused on research on green cars and green power.
Scarlet and Gray legacy
As the Buckeyes' 24th head football coach, Urban Meyer joins a group that includes not only icons like Woody Hayes, but also lesser known coaches like Jack Ryder, the Bucks' youngest coach at 21.

Find out more about Ohio State coaching history and see the 2012 football schedule.
(Virtual) reunion
Homecoming is just around the corner--and this year, for the first time, it's combined with Reunion Weekend activities.

Social media addicts: interact with Ohio State before you come back to campus! On Twitter, tell us why you're a #BuckeyeForLife. On Facebook, tag yourself and share your story in our album of dorms.

Share your pride

O-H-I-O: Oh baby!

A tiny member of the Stubenrauch family gets practice dotting the "i."

Spetember 2012