No breaks for these students
Researching a cure for cancer at Ohio State's Wexner Medical Center. Organizing a chamber music festival in San Francisco. Taking classes in England. For Ohio State students, summer "break" meant time to get out and experience the world—through research projects, service, internships and study abroad.
"I had the opportunity to attend the South Africa History and Culture Program," student ShaRayna Oree said. "The trip was so life-changing."
Take a look at an interactive map that illustrates the good work Ohio State students accomplished this summer during their global travels. Then read how the university is continuing to raise the bar of student success by welcoming its best-prepared class yet.
Stay connected with Ohio State
Scholarship challenge

A new university fundraising initiative aims to raise $100 million–funds that will directly benefit scholarships for students in all 88 Ohio counties. With honorary co-chairs Urban Meyer and Thad Matta leading the way, Ohio State is poised to deliver a victory for Ohio's young people.
Memorable beginnings
You never forget your first day at Ohio State. Just ask one of our 500,000-plus living alumni. Their stories are different, but they repeat a two-word mantra: get involved. Learn more about the first day on campus for five accomplished Ohio State graduates.
'Incredible momentum'

Interim university president Joseph A. Alutto has stepped into his new role at a time of considerable Ohio State momentum. Alutto spoke at the Columbus Metropolitan Club in August to provide an update on how the university will build on its existing strengths.
Inspiring Buckeyes

Ohio State is on the rise, with future-focused faculty, researchers on the cutting edge of education, and student applications and preparation at an all-time high. Find out why the university is attracting some of the nation's best students—and use #OSUinspires on Twitter to tell us how Ohio State inspires you!
What does Ohio State mean to you?

Lasting Impact: Leona Mourad
"Nurses form a special connection with their patients," says Leona Mourad. "I hope my gift will allow students with financial need to explore their passion for nursing and develop the connections that will transform the lives of patients and future nursing students."

Share your pride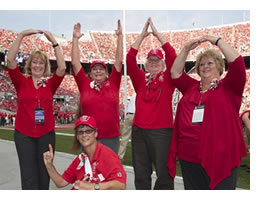 Trailblazing O-H-I-O
The first five female members of The Ohio State Marching Band share their pride during Alumni Band Day at Ohio Stadium on Sept. 7. Pictured are (left to right) Rachel Berry, Karen Griffith, Lisa Smith, Becky Moughiman and Susan Johnson (kneeling).