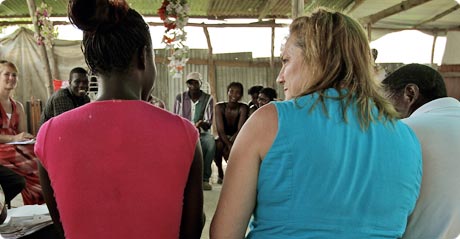 Resilience: Ohio State in Haiti
Professor Terri Teal Bucci has been working in Haiti since 2005. Since the earthquake hit last January, she's traveled to the island nation three times, working with community leaders to set up tent schools for displaced Port-au-Prince residents.
"Ohio State University students and faculty members have been a presence in Haiti for the past five years," Bucci says.
Watch a video about the Haiti Empowerment Project and learn how you can help.
"Smorgasbord of Agriculture"
Food and agriculture is the state's No. 1 industry, a $100 billion business.

At the Farm Science Review, Ohio State shares the latest ag news with farmers--including green features such as a field of biomass crops, a rain garden exhibition, and a small-scale biodigester.
Lonely hearts
| | | |
| --- | --- | --- |
| | | Absence may make the heart grow fonder, but it may not make it healthier. Ohio State researchers suggest that social isolation can actually worsen the effects of a heart attack. |
Prime time
| | | |
| --- | --- | --- |
| | | We're an online nation, but mainstream TV news still has the power to spark hot topics. An Ohio State study based its findings on the surge of online searches after heavy news coverage of the Obama-Muslim rumor. |
Lessons in civility
Share your pride

O-H-I-O: Happy Halloween

In Ironton, Ohio, even skeletons are Buckeyes.

October 2010
In this issue: