The highest-tech band in the land
Each week, Ohio State Marching Band members Ryan Barta and Charlie King received an 80-page packet that described in detail that week's performance and the steps that would be taken to make that happen. While the packets provided inspiration for the pair, it also provided a concern.
These 80-page packets were delivered to 225 band members. That's a lot of paper being distributed by a university that's known for its efforts to encourage sustainability.
Barta and King were not deterred. They came up with a solution, creating, planning and executing a program that puts the band's routines on iPads–a move that's cut down on paper copies and could save the band as much as $24,000 a year.
Stay connected with Ohio State
Nobel-worthy research

Ohio State researchers played a key role in the July 2012 discovery of the Higgs boson particle, one of the basic building blocks of the universe. On Tuesday, the theory behind that research was recognized with the 2013 Nobel Prize for physics. Eight Ohio State physicists were among thousands worldwide who labored to design, build and run experiments that would render the Higgs visible.
Demonstrating eminence

Interim Ohio State President Joseph A. Alutto addressed the University Senate last week. Read what Alutto had to say about what it will take for the university to reach its goal of attaining eminence.
Brutus through the years

Ohio State's beloved mascot Brutus Buckeye has gone through a number of changes through his eventful life. He grew from a large nut with two spindly legs into a Scarlet and Gray-clad cheerleader who never fails to get Ohio State fans excited about a big game. Watch the transformation that started in the 1960s.
Finding common ground

The Bipartisan Policy Center's Commission on Political Reform will hold its third in a series of National Conversations on American Unity in partnership with The Ohio State University and USA TODAY in Columbus on Oct. 15. Be a part of a discussion aimed at improving the quality of political discourse in America.
What does Ohio State mean to you?

Insuring Tomorrow: Arthur E. Shepard
"Ohio State has definitely played a big role in my life and has been a tremendous experience for Dottie and me," said Art, who clearly recalls his first Buckeye football game in the early 1930s. "Student season tickets were only about $7 then–and I remember it rained."

Share your pride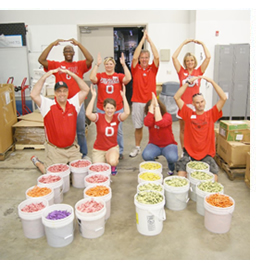 Central Florida Buckeyes
Pay Forward
The Ohio State Alumni Club of Central Florida took a tour and volunteered at the Orange County A Gift For Teaching (AGFT) Home Store on September 28, 2013. Central Florida Buckeyes saved AGFT over $500 in labor expenses by volunteering.