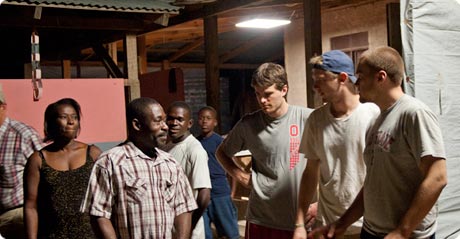 Sun solution
A group of engineering students spent a week in Haiti installing solar panels as part of Ohio State's Haiti Empowerment Project. The result? Sustainable power for a recovering community, real-world experience for the students, and lasting memories for all involved.
Groundbreakers
| | | |
| --- | --- | --- |
| | | All-American Bill Willis and all-Ohio football coach Paul Brown met at Ohio State in 1942. That year, the Buckeyes won the national championship. Four years later, the two men helped integrate professional football. |
Freshman 3?
An Ohio State study dispels the myth that students gain a lot of weight their first year in college. Most gain around three pounds, while a quarter of freshmen actually lose weight.

Learn more and read tips on maintaining a healthy diet during college and beyond.
OSU Mobile: Now on Android!
| | | |
| --- | --- | --- |
| | | The free OSU Mobile smartphone app is now available on Android. Students helped create the app, which includes free ringtones, updated campus maps, news, and more. |
Skill spread
| | | |
| --- | --- | --- |
| | | New research shows that preschoolers with poor language skills improve when they're placed with high-achieving students. These findings could spur more diversity in the classroom, leading to better outcomes for children in poverty. |
Share your pride

O-H-I-O: 9,000

This month, the 9,000th O-H-I-O photo was submitted to Ohio State. Thanks to everyone who contributed to reach this milestone!

November 2011