Great graduates
Ohio State's autumn commencement allowed the university not only to celebrate its graduating students, but also recognize a number of our most accomplished faculty and alumni.
More than 3,000 graduates earned their degrees on the day. In addition to the graduates, alumnus and author R.L. Stine delivered the commencement address, and faculty Lonnie Thompson and Ellen Mosley-Thompson were awarded the Sullivant Medal, which is presented every five years to individuals who demonstrated notable achievement.
Take a look back at commencement with photos from the celebratory day.
Stay connected with Ohio State
A record year

2013 was the most successful year yet for Pelotonia, the annual bike trek that benefits cancer research at Ohio State. Pelotonia 13 generated more than $19 million, a record number that boosted the ride's five-year fundraising total past $61 million. Take a look back at this year's ride in photos.
Comic relief

Renovation work on Sullivant Hall is still progressing, but one of the grand, old building's gems already has been revealed. The Billy Ireland Cartoon Library and Museum opened last month, giving Ohio State a place to showcase 2.5 million comic-strip clippings and newspaper pages, 300,000 original cartoons and more.
Game aggression

Researchers have long drawn a connection between youth who play violent video games and those who exhibit increased aggression. A new study reveals that playing these video games also may make gamers more likely to overeat, cheat and show other behaviors that grow from a lack of self-restraint.
Going bowling

Despite suffering a loss in the Big Ten Championship game, Ohio State still managed to earn a spot in a record 11th Bowl Championship Series game. The Buckeyes will take on Clemson on January 3 in the Orange Bowl. Learn more about plans for the bowl as the Buckeyes head to the Sunshine State.
What does Ohio State mean to you?

The Victory Bell: Shirley and George Caronis
Shirley and her late husband, George, have accomplished the goal of "keeping the Victory Bell ringing for many years" with a fund in their names that helps maintain the Buckeye tradition.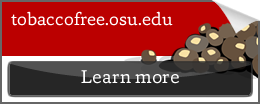 Share your pride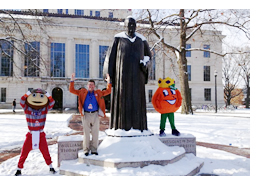 Orange Bowl bound O-H-I-O
Obie, the Orange Bowl mascot, visited campus and posed for an
O-H-I-O with Brutus.