Ohio State's hidden gems
Ohio State alumni and friends have many spots on campus that hold a fond place in their hearts.
Iconic landmarks like the Oval, the Thompson Library and the 'Shoe are popular and well-known to most who love the university. However, these noted landmarks are not the only gems on campus.
Did you know that the Freedom Train ran through campus in the 1800s? Or that the university is home to a recently rejuvenated planetarium? Learn about these spots and more as you see Ohio State's hidden gems.
Stay connected with Ohio State
On the road to ending cancer

More than 7,000 riders turned out to participate in Pelotonia 14 and this year's renewal has already raised more than $12 million to benefit cancer research at Ohio State. Take a closer look at this year's ride and find out how you can still contribute to an effort that has raised more than $70 million.
A lake renewed

Earlier this year Mirror Lake was emptied as the university looked for ways to keep it from draining 50,000 gallons of drinking water per day. After finding a natural groundwater spring nearby, Mirror Lake was refilled and returned to its former beauty–in an environmentally safe way.
Breaking the cycle

Last spring, more than 10,000 Ohio State students earned their degrees at commencement. One of those students, Michael Periatt, is heading back to the classroom as a part of Teach for America. His goal? Change the lives of his students.
Doctors make headache breakthrough

Doctors at The Ohio State University Wexner Medical Center and the College of Dentistry recently performed the first procedure designed to provide relief from cluster headaches, which are more painful than migraines. As a part of the surgery doctors inserted a neurostimulator that can "turn off" these debilitating headaches.
What does Ohio State mean to you?

His greatest achievement: Dick Crawford
Dick Crawford has a lifetime of stories. But the story Dick loves to tell most of all is that of his beloved late wife, Joan, who shared the many high points of his life. Dick recently established a scholarship in the College of Social Work, both to honor her memory and lifelong dedication to philanthropy, and also to give back to the place where their story began.


Share your pride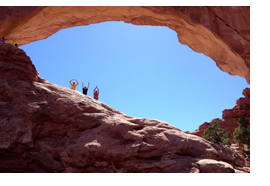 O-H-I-O @ Arches National Park
Each year, our group sets out for a week long motorcycle trip. This time, we headed west. Great friends on a great ride - GO BUCKS!
– Mike Krohn, Class of 1992