---
Important Dates
Monday, March 9
Common midterm dates and times confirmed to departments for summer semester (one week before summer non-credit class events can be approved).
Monday, March 9
Create finals determination lists, send to departments for spring semester, and contact Gateway Instructors (Monday, ninth week of spring semester).
Monday, March 9
Run Athletic System - Student Admin Record Changes Process (SARC).
View more important dates
Academic calendar
Download important dates for iCal
---
Image of the Day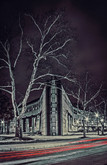 ---
O-H-I-O!