President's Club Staff Update
Julia (Smith) Wyche will be working in the Office of the President for the next six to eight weeks. Marie Gibbons will step in to help with monthly donor events. Please contact the President's Club at 614-292-9550 or presidentsclub@osu.edu with questions.
Circle of Friends: Dennis and Penny Groves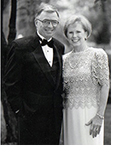 Dennis and Penny Groves are excited their young grandsons already aspire to be the fifth generation of Buckeyes. The family's impressive Ohio State legacy dates back to 1900, when Dennis' grandfather enrolled in the College of Agriculture. Now, in honor of this tradition, these President's Club donors provide scholarship opportunities to two Navy Reserve Officers Training Corps Midshipmen.
Winter Wondercampus

Ohio State's campus has been full of beautiful sights during the early snowfalls of 2015. These wintery scenes, taken by University Communications photographer Jo McCulty, let you enjoy the scenery without worrying about the wind chill.
Ohio State Ranks in Top 10 for eLearning
Ohio State recently tied for eighth in U.S. News & World Report's 2015 "Best Online Bachelor's Programs" report. In 2014, more than 5,000 students enrolled in the university's 10 online programs, with more than 270 courses. "We are highly ranked already with our on-campus delivery, and this is showing that we're doing the right things with our online education," said Rob Griffiths, senior director of digital scholarship for the Office of Distance Education and eLearning.
Ohio State Astrophysicist Launches Podcast

Paul Sutter, of Ohio State's Center for Cosmology and AstroParticle Physics, has launched a podcast called "Ask a Spaceman!" People curious about space, astronomy and astrophysics can post questions on Facebook or Twitter using the hashtag #AskASpaceman. Paul replies in a lighthearted, conversational way. Listen to the first two episodes.
2015 Football Ticket Applications

The Athletics Ticket Office plans to send 2015 season football ticket information to qualified donors in early March. If you have questions regarding your 2015 President's Club status, please contact us. As new information becomes available from the Athletics Ticket Office, we will post it to our website.