SAVE THE DATE!
All-New President's Club Event
Our President's Club pre-game event is scheduled for Saturday, September 27, 2014, from 3 - 5:30 p.m. at the Drake Performance and Event Center prior to the Ohio State vs. Cincinnati game. Besides a new location this year, you'll be treated to a new menu and new entertainment. Watch for invitations to be sent mid-August.
Upcoming Events
Explore Ohio State's unique resources and treasures on one of our exclusive President's Club tours. Reserve your President's Club experience by emailing presidentsclub@osu.edu or calling 614-292-9550.
The Ohio State University Airport and Don Scott Field
Tuesday, August 5, 2014, noon - 2 p.m.
Tuesday, August 12, 2014, noon - 2 p.m.
RSVP by July 30, 2014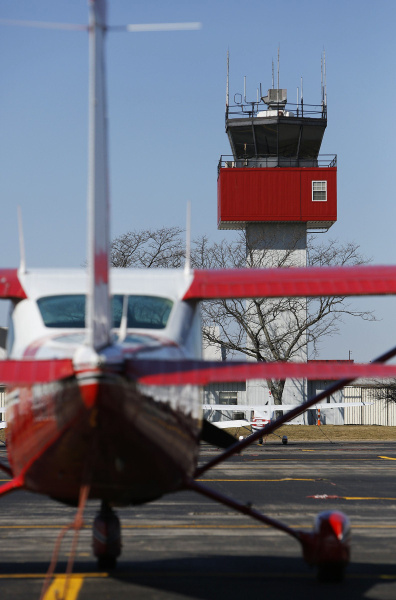 Join President's Club for a tour of one of the leading general aviation facilities in the nation and the fourth busiest airport in Ohio. Led by Ohio State student pilots, you'll explore the fleet, flight simulators, observation tower and air maintenance garage, as well as the field and runway. You'll discover Ohio State's rich aviation history and learn how the airport functions today.
The Ohio State University Veterinary Medical Center
Wednesday, August 6, 2014, 4 - 6 p.m.
RSVP by July 31, 2014
Join President's Club for a tour of The Ohio State University Veterinary Medical Center where faculty, staff and students care for companion animals, horses and farm animals, llamas and even police and guide dogs. You'll get a behind-the-scenes look at the facilities that make it all possible: the Hospital for Companion Animals, the Farm Animal Hospital wards and the Galbreath Equine Center. Due to safety concerns, children must be 14 or older to accompany adults on the tour.
Stone Lab Day
Friday, August 22, 2014, 11 a.m. - 5 p.m.
RSVP by August 18, 2014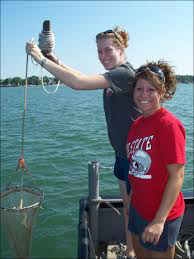 Join us for a day at Lake Erie visiting Stone Lab and Gibraltar Island. Enjoy a tour of the South Bass Island Lighthouse and the Aquatic Visitors Center, both managed by the Ohio Sea Grant.
Please note:
President's Club donors are responsible for their own transportation to and from Port Clinton and may be responsible for a $5 parking fee at Miller Ferry. While free parking is often available, Port Clinton crowds that day will determine availability.
President's Club and Ohio State's Stone Lab will cover the cost of ferry and island transportation, guided tours, snack and lunch.
Please wear comfortable walking shoes and weather-appropriate clothing. Tours take place rain or shine!
This is a walking tour and the pace and logistics of the tour may not be appropriate for those with limited mobility.
'Globe Trot' Short Film from Department of Dance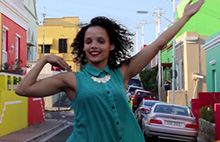 Filmmaker Mitchell Rose and choreographer Bebe Miller, both from the Department of Dance, have created an international crowd-sourced film, Globe Trot. Fifty filmmakers on all seven continents (including an Ohio State research station in Antarctica) each shot two seconds of Miller's choreography and sent the footage back to Rose for editing. The film has won five festival awards since premiering at the prestigious Cinedans in Amsterdam in March.
Computer Mapping of 21 Distinct Facial Expressions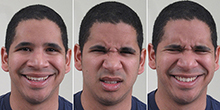 Ohio State researchers have found a way for computers to recognize 21 distinct facial expressions, even those reflecting such complex or seemingly contradictory emotions as "happily disgusted" or "sadly angry." Mapping emotions in the brain with greater precision may aid in diagnosing and treating mental conditions. This model may help with designing robots one day that interpret our emotions, including companion robots for the elderly.
Free Summer Youth Concerts Through School of Music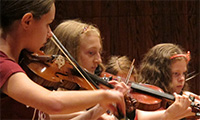 The Ohio State University School of Music presents free concerts open to the public as part of the 2014 Youth Summer Music Programs. Enjoy a string workshop finale at Weigel Hall on Wednesday, July 2, at 7 p.m. or a marching band final showcase concert at the marching band practice field south of Ohio Stadium on Monday, July 21, at 7 p.m.
Dr. Buffington and iTunes with Advice on Indoor Cat Care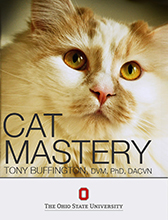 Ever wonder what your cat is thinking or why it's behaving a certain way? Dr. Tony Buffington, a veterinarian, researcher and professor at Ohio State, is happy to provide some insight. He, in partnership with Ohio State's Office of Distance and eLearning, has released a multi-touch interactive digital book, Cat Mastery. In addition, he's launched an iTunes U course for an eye-opening look at indoor cats and the humans who love them.