For Our President's Club Donors
President's Club is pleased to offer the following opportunities to our donors.
REMINDER
President's Club Pre-Game Event
Saturday, September 26, 2015
Western Michigan vs. Ohio State
Begins 2.5 hours prior to kickoff

Information about this event at the Recreation and Physical Activity Center (RPAC) is available at presidentsclub.osu.edu. Please call 614-292-2281 or 800-762-5646 to make your reservation
s or ask questions about the event.
SPECIAL OPPORTUNITY
Courtesy Copy of the Buckeye Book Community 2015 Selection
The Good Food Revolution by Will Allen
15 copies available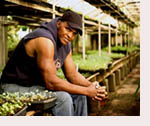 Freshman Buckeyes take part in the First Year Experience (FYE), a program designed to help them adjust to campus life and connect with the university. Part of this exciting experience is joining more than 7,000 other students in the Buckeye Book Community (BBC) for a chance to spark conversations around a book that connects the whole first-year class.
Join students in reading the 2015 BBC book: The Good Food Revolution by Will Allen. A former professional basketball player and business executive, Allen turned his love of food into a career as a preeminent urban farmer on his two-acre plot outside Milwaukee. Allen now educates on the power of local food systems and the ability to create jobs and improve public health.
The book aligns with President Michael V. Drake's plans for Ohio State, including topics related to community engagement, as well as Ohio State's Discovery Themes, which include focus areas in foods for health and food security.
Secure your courtesy copy of The Good Food Revolution — a limited supply available — by calling 614-292-9550. You also are invited to "An Evening with Will Allen" at Mershon Auditorium on September 21, 2015, at 7:30 p.m. Please register here for the event.
NEW EVENTS
Reserve your President's Club experience by calling 614-292-9550 or sending an email to presidentsclub@osu.edu.

Wexner Center Exhibition
Wednesday, October 7, 2015, 4 - 6 p.m.
50 spaces available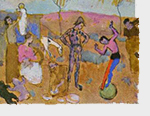 After Picasso: 80 Contemporary Artists features nearly 150 works from such Picasso peers as Brassai, Ernst Ludwig Kirchner, Henri-Cartier Bresson and Dora Maar. Plus you'll find contemporary masters like Jasper Johns, Andy Warhol, Roy Lichtenstein, Cindy Sherman, William Wegman, Louise Lawler, Sigmar Polke, Amy Sillman and Fred Wilson.
Experience this fascinating exhibit with other President's Club donors and enjoy a reception in the Mershon Lobby.
Tour of the Austin E. Knowlton School of Architecture
Tuesday, October 20, 2015, 2 - 5 p.m.
25 spaces available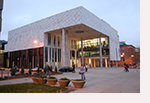 Tour Knowlton Hall, home to the College of Engineering's Knowlton School. The building is based on the integration of elements: inside and out, students and faculty, old and new, school and university, art and technology. The design reflects the school's mission of excellence in education, innovation in design and planning, and the stewardship of a quality environment.
Please join the President's Club as we tour this spectacular facility and enjoy a reception hosted by faculty, administrators and students.