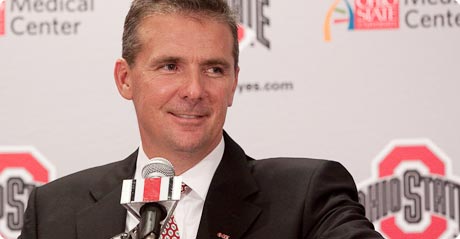 Urban renewal
It's official: Urban Meyer is Ohio State's new head football coach. The two-time national championship winner and Ohio State alumnus has 20 years of football coaching experience, most recently serving as head coach at the University of Florida. Luke Fickell will finish out the 2011 season at the Buckeyes' Gator Bowl appearance on Jan. 2.
Learn more about Coach Meyer, and back the Bucks in Florida.
On their minds
Contrary to persistent stereotypes, men don't think about sex every seven seconds. Rather, an Ohio State study found that sex enters men's thoughts roughly 19 times per day—about as often as they think about food.

Read the research, including how women's thoughts compare.
International university
| | | |
| --- | --- | --- |
| | | More than 5,500 international students from 100-plus countries are enrolled at Ohio State, and nearly 2,000 undergraduates embark on study abroad trips each year. These world-spanning exchanges inspire President Gee to call Ohio State "a global institution." |
Honoring philanthropy and service
| | | |
| --- | --- | --- |
| | | At the annual Evening of Distinction ceremony, six of Ohio State's most extraordinary supporters—Abigail and Les Wexner, Jeri Block and Robert H. Schottenstein, and Cindy and Larry Hilsheimer—were recognized for their philanthropy and leadership. |
Parental perfection
| | | |
| --- | --- | --- |
| | | Parenting is hard work, especially for new moms and dads who believe society expects them to be perfect. Ohio State research found that these parents show poorer adjustment, less confidence, and more stress than parents whose high standards are self-imposed. |
Share your pride

O-H-I-O: Welcome Coach Meyer!

New head football coach Urban Meyer joins Buckeye Nation.

December 2011