Click on photo or scroll down the page to read winner's bio.


---
Department of Civil and Environmental Engineering and Geodetic Science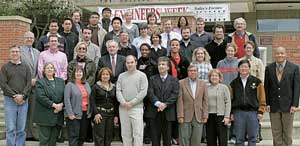 The Department of Civil and Environmental Engineering and Geodetic Science has been making strides in support of diversity enhancement. Many of the department's advancements in this area have come from the implementation of CEEGS' Ten-Year Strategic Plan, established by professor and chair Oliver McGee to prepare the finest scientists and engineers for the next decade and improve scientific and engineering literacy. CEEGS has been especially successful in the recruitment and retention of women and minority faculty and in creating a supportive environment for diversity and related initiatives. Faculty within the department have played active roles in the development and implementation of outreach programs to attract members of underrepresented groups to all fields of engineering and to create a diverse student body. Some of these events include working with Ohio State's Young Scholars Program; creation and execution of the Future Engineers' Summer Camp for Girls, a week-long program for eighth-grade girls; and creation of the Bridges to Engineering Education project, a series of hands-on engineering activities to be used in seventh- through 12th-grade math classes. CEEGS faculty also developed a mentoring program, connecting new and established faculty in the department. Additionally, the department's faculty and students alike have been recognized for their commitment to academic excellence as well as diversity.
---
William J. Hicks
Clinical Professor and Diversity Enhancement Program Co-Director
The Arthur C. James Cancer Hospital
William J. Hicks, a founding member of the Ohio Commission on Minority Health, continues work to improve the quality of health care delivered to minority populations in the state. One nominator noted that Hicks "has always been available and accessible to diverse communities bridging the community, academia and medical practice to the benefit of thousands of people. He is a physician who devotes inordinate hours to providing critical health information in community settings, translating diverse health belief systems to his colleagues and serving as a role model for young people." As co-director of the Diversity Enhancement Program at the Arthur C. James Cancer Hospital, Hicks strives to promote diversity and cultural sensitivity within the hospital itself and works to address the issue of racial disparity in minority cancer patients and increase minority education and accrual to clinical trials. He also has participated in a wide variety of community outreach programs, produced a significant number of notable publications, and received several professional grants. Hicks further demonstrates his commitment to diversity through "It's All About Health," a monthly radio program he hosts about cancer and other health concerns in the African American community on WJYD-FM in Columbus. Hicks has been recognized locally and nationally for his outstanding contributions to the Columbus community and minority health.
---
Department of Theatre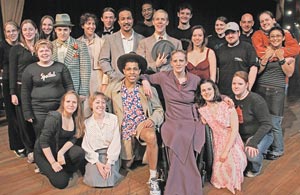 "OSU Theatre is committed to sharing with the OSU community, central Ohio and the world what diversity is really all about," one nominator wrote. The Department of Theatre's exhibitions, productions, and programs provide students with the opportunity to explore diversity issues of the United States, as well as cultural matters from around the world. Diversity is a strong theme within the department's curriculum, allowing students to receive a global education and broaden their horizons through a variety of guest lectures, performances, and workshops. Another nominator commented, "Students and audiences alike get emotionally connected with the performances, guests, and texts; analyze their experience through guided discovery; and are changed by their theatrical experience." At the graduate level, diversity has been a primary focus in recruiting Master of Fine Arts candidates. The department's faculty are committed to increasing the department's diversity profile by bringing in notable minority guest artists and scholars and providing students, faculty, and staff the opportunity to engage with these individuals. Recent guests include Petr Matasek and Jaroslav Malina of the Czech Republic; African American Broadway designer and alumna Toni-Leslie James; African American actors Herman LeVern Jones and Ted Lange; director Woodie King Jr.; and playwrights Adam and Adrienne Kennedy. One nominator noted, "This department sets the example for living and breathing and embracing diversity, and then pushes the concept out of the box."
---
J. Briggs Cormier
Doctoral Student
Student Affairs, Policy Development and Planning
Graduate student J. Briggs Cormier is "an individual who sees himself and his role in the much larger world beyond his own career and personal interest as an agent of change," as one nominator wrote. As a graduate teaching assistant, Cormier has made long and lasting contributions to the Department of Theatre as well as to his students. During his term as president of the Council of Graduate Students, Cormier's commitment to minority students was quite notable, as he advocated for international, gay and lesbian, and women graduate students, among other diverse groups. Cormier also played a major role in shaping the policies and guidelines surrounding use of the student activity fee and was a consistent advocate for diversity programming. In his work with the Office of Student Affairs, he exceeded expectations by compiling the Student Affairs Diversity Report and built a draft history of Ohio State's non-discrimination policy, comparing Ohio State's policy against those of other institutions. Additionally, Cormier recently joined the Student Affairs Diversity Council and has picked up the responsibility for leading the council's Diversity Enhancement Grant Committee. One nominator noted he "is truly an outstanding student leader, graduate assistant and advocate for diversity."
---
2005 Distinguished Diversity Enhancement Award
Return to University Awards home