Blake Haxton never thought he would return to the sport of rowing.
A near-fatal bout with necrotizing fasciitis, or "flesh-eating disease," and subsequent complications required surgeons to amputate his legs during his senior year at Upper Arlington High School.
Doctors at the Wexner Medical Center's Richard M. Ross Heart Hospital were able to save his life against incredible odds. But gone were the possibilities of rowing for prestigious college programs, taking part in ROTC and other dreams.
Haxton had to make plans for a new life closer to home, and he found that life as a student at Ohio State.
The Fisher College of Business graduate is now in his second year at the Moritz College of Law – often considered the most rigorous year in a law student's three-year journey.
Yet, he carves out hours every day to work toward another goal: maintaining his spot on the U.S. Para-rowing national team and training for the Paralympics in 2016.
"The two things I want to be doing in my life right now are school and rowing," he says, "and I get to do both for my two favorite institutions in the world: The Ohio State University and the United States of America. It doesn't get any better than that."
A meteoric return
Haxton has coached rowing teams at Upper Arlington, where there is a regatta held in his honor every October. But he only returned to the sport as an athlete in February.
At a competition on adaptive rowing machines in Boston, Haxton broke a U.S. record. He returned to Columbus and, with a borrowed boat, trained for the U.S. team's qualifying trials in July.
Despite a terrible launch that put him in dead last at the start of the race, Haxton cruised past lanes of competitors – including a two-time Paralympian – to win the race handily.
"I finished rowing the course and cooled down. I was very much alone for the next five or six minutes," he says. "I just kept telling myself: 'Man, you made the U.S. team. You made the U.S. team! No way.' " 
Six months after returning to rowing, Haxton represented the United States in the 2014 World Rowing Championships in Amsterdam. Accompanied by his friends and former high school coaches, he fulfilled a lifelong dream to compete for his country.
Haxton headed into the championships hoping to make the top six. He finished fourth – just barely nudged out of medal contention.
"Fourth by a second isn't what anybody goes to bed dreaming about, but it'll make you get out of bed the next morning. That's for sure."
Haxton's sights are firmly fixed on graduating with his law degree and competing in the Paralympic Games in 2016. To reach those goals, he endures grueling dawn and dusk workouts and fits in a heavy law school course load in between.
What helps fuel Haxton is the competitive spirit coming alive in him again.
"It's something I missed for the last four or five years," he says. "There are so few outlets to really physically compete and really push yourself and try and win. Getting that back was just fantastic."
'Wildly fortunate'
In the darkest hours, when his heart, liver and kidneys failed, Haxton's parents had conversations with doctors about whether a bypass machine could keep their son alive long enough for his older brother to get home from college for a final goodbye.
"Believe it or not, I'm as healthy as a horse today," he says. "I don't have a single prescription in my name. … I'm told I have above average health for a person. I just don't have my legs." 
At Ohio State, he's forged meaningful, lasting relationships with the doctors who treated him. They continue to check up on him and made sure he had a Wexner Medical Center decal on his boat this summer.
Haxton also says countless advisors, professors and staff have assisted him as a student – in some cases literally clearing his path. He smiles as he recalls a grounds worker who made sure snow was removed from the sidewalks he used on his way to classes at the Fisher College of Business.
"The university is incredibly friendly to disabled students. No question. And that's been great," he says. "But on a personal level, it's the people at Ohio State who have made this experience tremendous."
A scholarship recipient, Haxton is stunned by the impact virtual strangers have had on his law school experience.
"That sort of blind generosity – to be the recipient of it – makes you want to go out and be better," he says. "It makes you want to earn it, and I think it's done that for me. It makes me want to be good enough to be worthy of that kind of gift, and I couldn't be more appreciative of it."
In fact, Haxton says he feels "wildly fortunate" to be where he is today – academically and athletically.
"If you could see all that I've been through, through my eyes, it's amazing how things have worked out," he says. "Talk about inspiring – I wish people could watch tape of what I've seen over the last five years and what people were willing to do for me."
Join the conversation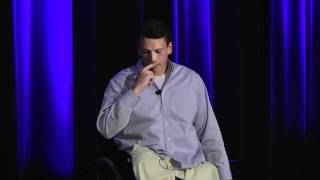 Hear his TEDx talk
Watch Blake Haxton's talk, "The Advantage of Adversity," from TEDxOhioStateUniversity 2012.
Read the Q&A
Read more from the interview with Blake Haxton in the November-December issue of Ohio State Alumni magazine.