From working at a startup in Tel-Aviv to studying in Morocco to gaining experience with health care in China, Ohio State students kept busy during the summer months: Summer "break" was a time spent exploring the world and learning through experiences -- research projects, service, internships and study abroad.
Click through the interactive map to see how some Buckeyes spent the summer.
Stories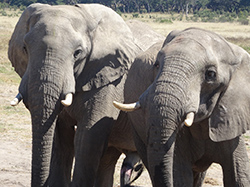 Chris Colley

Major: Civil engineering Zimbabwe & South Africa
This student-athlete's summer consisted of safaris, cave paintings, elephants, leopards and zebras.
Colley traveled to South Africa and Zimbabwe for the Culture and History of Southern Africa Study Abroad Program, thanks to a scholarship through the Department of Athletics. Meeting new friends who became family and experiencing the culture, society and history of the region, he says he was "truly blessed."
"Not only did this community welcome me, it inspired me. Everyone I met was polite and welcoming. In a township of more than a million people, everyone looked after each other."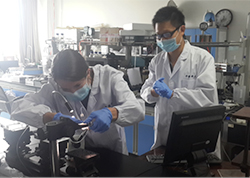 Margaret Cron

Major: Biomedical engineering
Hefei, China
One of the best ways to learn the ins and outs of research techniques? Surround yourself with incredibly intelligent Masters and Ph.D students. That's exactly what Cron did in a lab at the University of Science and Technology of China.
Cron worked with biomedical optics in China, helping develop a 3D eye model that could be used for testing.
"These experiences gave me such valuable research experience," she says. "They taught me how to think like a researcher. I am so thankful for the opportunity to travel to China. I made lifelong friendships and unforgettable memories."
Learn more about Cron's trip here.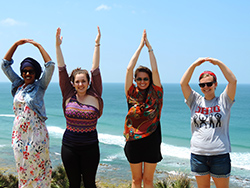 Nima Dahir

Major: Economics and Mathematics
Morocco
Visiting the Royal Library and the Parliament and experiencing the history, politics and culture of Morocco is what Global May Morocco is all about.
When Dahir reflects back on her experience, one word comes to mind: growth. In Morocco, she immersed herself in the culture.
"I learned about how I interact with people, cultures, foods and languages I am unfamiliar with," she says. "Far more importantly, however, I learned to recognize and live within our common humanity. I am grateful for the opportunity to have lived in Morocco and to have seen the deep history and rich culture of the Moroccan people."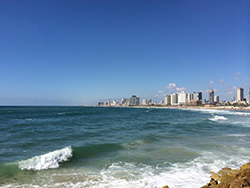 Zach Davidson

Major: Biology
Tel Aviv, Israel
Davidson took not one, but two trips to Israel this summer, both fully funded by Birthright and Onward Israel.
Davidson interned with MobileOCT, a startup in Tel Aviv. MobileOCT is working to develop technology to turn mobile phones into cancer-detecting devices.
"I wrote a literature review for the company's investors and clients, assisted in clinical trials and researched additional medical applications for the company's medical optics technology," he says. "On the weekends I took Hebrew classes and explored. I grew personally, spiritually and professionally and can now make a mean Shakshouka, a signature Israeli dish!"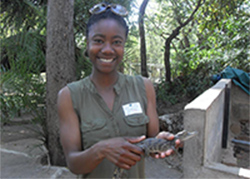 Alixandria Davis

Major: Criminology
Zimbabwe & South Africa
From eating warthog and impala to hearing the sounds of lions and monkeys at night to touching the clear waters of the Indian Ocean, Davis describes her summer in Africa as the "journey of a lifetime."
Davis's summer started in Harare, Zimbabwe, and ended in Johannesburg, South Africa, through Ohio State's Culture, Society and History of Southern Africa program. She spent 31 days in eight different cities, immersing herself in the African culture.
"Every step of the way, my eyes glimmered in amazement because I was in a space so vastly different than America, yet I felt so comfortable."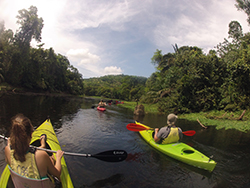 Annelise Del Rio

Major: Zoology
Panama
NOAA Hollings Scholar Del Rio spent her summer in the Panamanian forests and wildlife as part of the two-week study abroad program, Tropical Ecology Panama. During her time there, she learned how to conduct field experiments, went on class hikes and practiced her Spanish skills.
"It was a wonderful experience. We saw many beautiful landscapes and interesting animals. I learned a lot about tropical ecology and how research is conducted in the tropics, which is directly applicable to my zoology major and career goals involving research. I am very grateful for the financial assistance from the Office of Diversity and Inclusion that helped make this trip possible."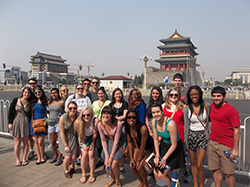 Sky Dominguez

Major: Neuroscience
Dalian, China
Thanks to Ohio State's Field Experience in Global Public Health: China and the Second-Year Transformational Experience Program stipend, Dominguez ventured to China to take a Maymester course at Dalian Medical University.
While studying abroad, Dominguez says, she experienced an amazing country through the help of Ohio State.
"The experience was one of a kind. Seeing how another country handles important health issues will definitely make me more informed as I enter the field of medicine, and I learned a lot about Chinese history, culture, and their government."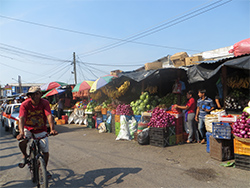 Carla Jagger

Major: Ph.D, Agricultural and Extension Education
Honduras
In Honduras, Jagger helped serve the Honduran food systems community. Her takeaway: Even when people speak different languages, there are ways to positively communicate with each other.
"One of my most memorable moments was the day we spent in one of the local barrios (small village) working alongside the women making 400-plus tamales that they then sell for a small amount of income that goes to any woman that comes and helps with the process."
Read more from Jagger and other fellow Honduras bloggers.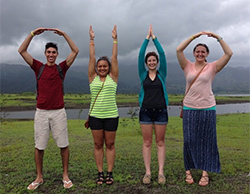 Joey Jones

Major: Spanish and Economics
San Jose, Costa Rica
For 12 weeks this summer, Jones worked at a social service center, helping to coordinate low-cost health care for the poor. He spent his summer serving the Costa Rica community with Ohio State's International Studies Abroad ELAP; tasks included helping patients check in to medical offices and get ready to see doctors.
"Learning about how people benefit from social services in a different country makes me feel prepared to work closely with social service offices in the United States when I start my career. It was also amazing to meet native Costa Ricans who knew of the Buckeyes. This proved to me that Ohio State's reach really is global!"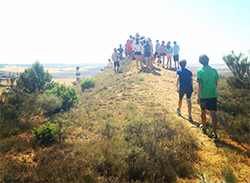 Hannah Leeper

Major: Anthropology
Toledo, Spain
Leeper took on Spain for two months this summer, working at two different summer camps teaching English.
From improving her Spanish to experiencing the culture in rural and urban Madrid, she loved learning about how children grow up in Spain. And as an anthropology major, she took interest in native perspectives on the new king, politics and the economic crisis.
"I have had an amazing experience learning more about how to teach in a classroom setting, and I'm excited to use what I've learned when I go to graduate school for education. I've gained so much from this trip!"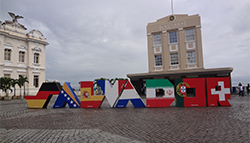 Brandon Norman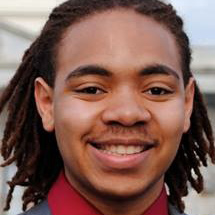 Major: Business administration
Brazil
As the World Cup was getting ready to kick off, Norman took his longest trip abroad this past summer – to Brazil.
Through this trip, he was able to experience a foreign country in a way that he couldn't in a classroom setting. Brandon explained that during one of his classes, a lecturer broke down in tears, really capturing the emotions of the people. And although nervous to make the journey, he's never been on a trip "so fulfilling and educational."
"Traveling to a foreign country put me outside of my comfort zone, but through this experience I was able to grow and learn more about the world around me. It was hard to say goodbye, but I know it is more of a temporary farewell because I will definitely be going back in the near future."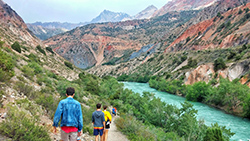 Mark Sandel

Major: Security and intelligence
Dushanbe, Tajikistan
Within a month of leaving the U.S., Sandel was dreaming in another language.
This summer, he traveled across the world for intensive study of Persian-Farsi and Persian Tajiki. And thanks to the Critical Language Scholarship Program (CLS), his trip was fully funded through the U.S. Department of State.
"After about a month in Tajikistan, I have seen my language abilities skyrocket. For the career I desire, (critical) language proficiency is a huge plus and almost a requirement. So the ability to have a lengthy and intensive study and an in-country experience will be a great."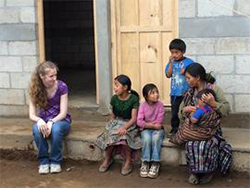 Mary Scherer

Major: Electrical and computer engineering
Panajachel, Guatemala
Scherer originally thought her summer would consist of the usual classes, research and skydiving. But with a suggestion from an Ohio State professor, she jumped at the chance to travel to Guatemala to see how she, as an engineer, could use her skills to help solve real world problems. She later returned to Guatemala to pilot a STEM Education program.
"Experiencing volcanic hikes, flooding rains, and an earthquake after only three weeks in Guatemala, I have realized that the world is constantly changing. But while teaching here in Panajachel, I have also realized that as a woman in engineering I too am changing the world."
Learn more about Mary's summer in her blog.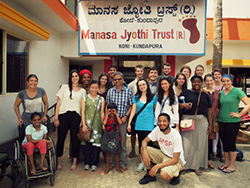 Ellen Tan

Major: Neuroscience
India
Public Health Perspectives: India helps students learn more about public health and sociology through the kaleidoscope of Indian society, and Tan seized this opportunity.
Thanks to the John F. Wolfe Study Abroad Scholarship, she spent her Maymester in India at Manipal University. Her experiences in India will continue to help her grow in the medical field.
"Through hospitals, research institutes, villages, schools, historical landmarks and religious sites, I was able to observe the important interplay between health in the community and the social determinants that affect it. I am excited to revisit these memories as I continue on the journey of life and also in the medical field."
Adam Beverly
Major: Architecture
St Louis, MO
Andrew Braun
Major: Microbiology and international studies
Boston, MA
Anthony Tenney
Major: History, and women's, gender and sexuality studies
London; Normandy, France; Germany
Olivia Cole
Major: Human development and family science
Franklinton, OH
Ashley Gerlach
Major: Early childhood education
Dallas, TX
Sean Robert Jepsen
Major: Finance
Senegal
Various Ohio State faculty and students
Major: Health Sciences
Prague, Czech Republic
Joseph Butso
Major: Korean
Seoul, South Korea
Christiana Fote
Major: Civil engineering
Toledo, Spain
Victoria Lazur
Major: Public affairs
Berkeley, CA
Stephanie Poeppelman
Major: Accounting
Cleveland, OH
Nicholas Zygela
Major: Economics
Tijuana, Mexico
Mikayla Bodey
Major: Public affairs
Washington, D.C.
Claudius Mbemba
Major: Computer information science
New York, New York
Caitlyn Mullins
Major: Meat science
Queensland, Australia
Kristin Bruggeman
Major: Industrial and systems engineering
Milwaukee, WI
Join the conversation
More info: