AROTC Celebrates Success of Cadets, Past and Present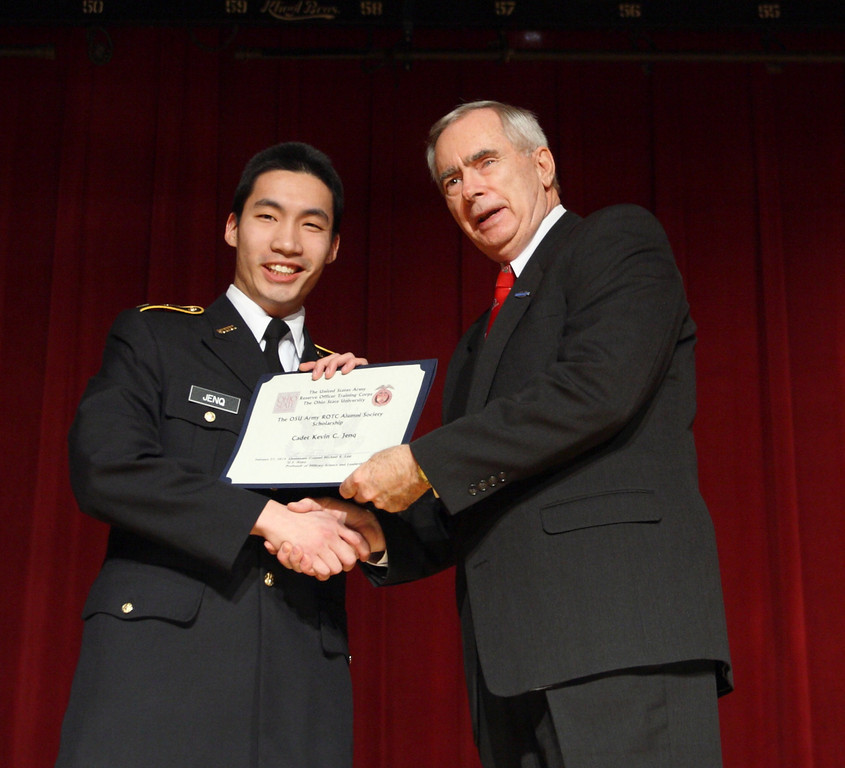 Every spring, Ohio State's Army ROTC celebrates the success of its cadets with the Army ROTC Alumni Society Hall of Fame and Spring Awards. Honors and scholarships are presented throughout the day to both current cadets and distinguished alumni.
This year at the Spring Award Ceremony, due to the enthusiasm and commitment of the AROTC Alumni Society Board and members, they were proud to announce scholarship awards totaling over $25,000 to hard-working and dedicated cadets.
Third year cadet, Kevin Jenq, was honored to be chosen to receive the OSU Army ROTC Alumni Scholarship Award which supports high performing cadets. Jenq, said "I would like to thank you for your enduring support, not only for my own sake, but that of my family as well, whose gratitude for your extraordinary generosity cannot be accurately expressed in words". This year's honored cadets exemplify the tradition of success for which the Ohio State Army ROTC program is known.
During the evening ceremonies, multiple generations of AROTC alumni united in celebration of a successful year, joined by new scholarship award recipients, graduating senior cadets, and their families. Along with celebrating the accomplishments of the year, the honored the past with the induction of three Army ROTC Alumni into the AROTC Hall of Fame: Mr. Jim Houston, Sr.; Major General (Ret.) Tod Carmony; and Colonel (Ret.) Mark Storer.
MG Carmony is the former Commanding General of the 38th (Cyclone) Infantry Division and current President of the Wayne Insurance Group. Colonel (Ret.) COL Storer was a founding member of the AROTC Alumni Society and former Military Director of the Ohio Selective Service Commission. He was driving force in establishing the AROTC scholarship program. Mr. Houston served as a Captain at Fort Dix. He was also an All American football player at Ohio State in 1958 and 59, serving as the Buckeye Captain in 1959. A member of both the Varsity O and College Football Halls of Fame, he played 13 seasons with the Cleveland Browns.
At the close of the evening, alumni and cadets joined in a moment of silence in honor and remembrance of Mr. John Mount, a long-time friend of the program and AROTC Hall of Fame Member, who passed away earlier this year. Mr. Mount was instrumental in the establishment and preservation of the current Ohio State ROTC Tri-Service program.
Dedicated alumni and generous donors ensure the success of the Army ROTC program. Thanks to their commitment to scholarship support, Ohio State is able to make the lives of its cadets a little easier- giving them and everybody else a little more to celebrate this spring.
If you would like to honor a comendable cadet, please contact Amber Diglaw at (614) 292-9443 or by email at Diglaw.1@osu.edu