Buckeyes Show Off at the Buckeye Showcase Talent Show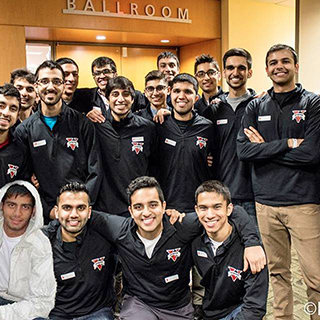 Have you seen everything Ohio State can do? Probably not, especially if you haven't seen it's annual talent show, Buckeye Showcase!
Take a stroll across the Oval, and you'll see hundreds of pretty normal looking students, but what they've been practicing in their spare time might surprise you - singing, dancing, and everything in between as 11 different acts competed on April 21 in the Ohio Union. The emcee for the night was last year's Buckeye Showcase winner, Drew Murray, who brought back his winning magic tricks and sense of humor to keep the night rolling.
The Soul Monsters, a group of 5 young local men who call their style "an eclectic mix of indie, alternative and post rock," were the opening act for the night. The audience loved their song "January 25," written by the lead singer for his parent's 25th anniversary.
Buckeye Twirl impressed their audience with their baton handling and Buckeyes on Tap showed everyone just how modern tap dancing can be.
But the stars of the night were Genesis, "Ohio State's premiere all-male fusion dance team," and Dancesport OSU. Dancesport reenacted move-for-move a performance from the popular 2013 film, Pitch Perfect, winning the Audience Favorite award. Genesis won Best Overall act, bringing a powerhouse of energy with their flips and jumps set to a mix of traditional Indian and modern R&B music.
Every act was remarkable, and the whole event reminds us what great things happen at OSU when students are given opportunity and support. Go Bucks!