Campus Visits & Tours
Finding Your Way
Ohio State at a Glance
Columbus, Ohio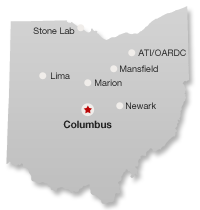 The Ohio State University isn't just a campus in Columbus. As a land-grant university, Ohio State has a physical presence throughout the state, with campus research centers throughout the state and extension offices in each of Ohio's 88 counties.
Planning a Visit
Overview and Tour Sessions
Tours are offered weekly and on most weekends. Check the website for availability and to make a reservation: campusvisit.osu.edu
Sessions are 2.5 hours long and include an overview presentation and campus tour. The overview presentation highlights academic and extracurricular opportunities and provides information about the admissions process.
The student-led tours visit areas of interest to prospective students, including a residence hall, dining facility, library, and classroom.
Reservations are required and two weeks' notice is recommended. Schedule your visit at campusvisit.osu.edu.
Group Tours
The Office of Undergraduate Admissions and First Year Experience offers group tours to groups of 10 or more. The tours are specifically designed for prospective undergraduate students and cater mostly to high school groups and/or access groups.
Reservations are required and one-month advance notice is recommended. Request a group tour at campusvisit.osu.edu/group.
Academic Visits
The Ohio State University offers more than 160 areas of study. Some of these areas offer information sessions, open houses and career days. You can explore your options at campusvisit.osu.edu or visit specific college web sites for unit offerings.
Self-Guided Walking Tour
Download this printable brochure that highlights the buildings around the central part of campus. It offers a great introduction to the beauty and tradition of The Ohio State University. Use this brochure as a template to guide your tour of campus on a day and time that best meets your needs.