An enduring legacy
Later this month, Joseph A. Alutto will conclude his second term as Ohio State's interim president, after focusing on driving the university forward during a time of transition.
Alutto, who joined Ohio State in 1991 as dean of what's now known as Fisher College of Business, has established himself as a "hard-nosed" and "strategic" leader known for decisiveness.
Upon the conclusion of his term, Alutto looks back at the breadth of an accomplished career and reflects on Ohio State's role as a land-grant university for the world.
Stay connected with Ohio State
Innovative collaborations

Ohio State's Wexner Medical Center is moving forward with a pair of collaborations that will provide major benefits to patients. In June, the university partnered with the state of Ohio to establish a program that will advance neuroscience. This was on the heels of a partnership between the James and the Moffitt Cancer Center that will result in more data sharing among those fighting cancer.
Green champions

Ohio State students have done hands-on work exploring the next generation of energy efficient vehicles through the three-year EcoCAR 2 competition sponsored by Argonne National Laboratory. Those efforts paid off when the university's team claimed first place in the prestigious competition.
$64 million and counting
Pelotonia has raised more than $64 million to benefit cancer research at Ohio State. This year's ride is scheduled for Aug. 8-10 and Ohio State's super peloton Team Buckeye is the home for riders, virtual riders and other contributors who want to participate in the name of Ohio State. Join the team and explore some unique fundraising efforts.
A good neighbor

The Weinland Park neighborhood adjacent to Ohio State's campus has long benefitted from initiatives that position the institution as a helpful community partner. A new program is developing a community arts project, and another is providing important health and wellness information for expectant mothers.
What does Ohio State mean to you?

Live the Life You've Imagined: Linda B. Meeks
Linda's childhood experiences and her love of sports inspired her to pursue wellness professionally. These days, her writing interests have expanded to include trade books on health, well-being and spirituality. She shares about her career and strong ties to Ohio State.


Share your pride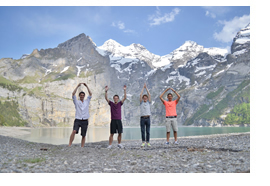 Ohio State takes the Alps
Seniors Tyler Brozovich, Michael Zumpano, Levi Bedall and Nick Castillo take their last O-H-I-O photo as undergrads at Oeschinen Lake, Switzerland. The architecture students recently completed a Maymester study abroad in Venice.