Drake takes office
On June 30, Michael V. Drake, MD, began his tenure as the 15th president of The Ohio State University, bringing decades of leadership experience in higher education.
Growing up in a medical household, Drake said he developed a passion for medicine at a young age, and in the years since has worked as a physician, professor, researcher and a leader in medicine and higher education. He most recently served as chancellor of the University of California, Irvine.
After a busy first day, Drake said he is ready to "take off the jacket and roll up the sleeves," as he embraces his new role at what he calls an "iconic university."
Stay connected with Ohio State
Record year for Fulbrights

Ohio State fielded a record number of Fulbright Scholars during the 2013-14 academic year, with some just returning to Columbus this month. Fourteen faculty members received Fulbright grants to study everything from atomic physics to Zulu beadwork to parasitic diseases in Central and South America. Learn about their projects through an interactive map.
A new way to pay forward

No matter when they graduated or where they live, the new Office of Volunteer Relations makes it easy for alumni to pay forward for Ohio State. The OVR website hosts a database of volunteer opportunities, which can be searched by keyword, department or location, so anyone can find the perfect way to volunteer for or in the name of the university.
Next generation of Buckeyes

Over the next several weeks, thousands of incoming freshmen will get their first taste of being a Buckeye when they come to campus to attend orientation. From OSU Mobile to the Guidebook App, these new Buckeyes have many tools to navigate orientation and the campus, as well as services like First Year Experience to help them embrace their new home at Ohio State.
Ready to hit the road
Pelotonia has raised more than $60 million and counting for cancer research at Ohio State. With this year's ride gearing up to hit the road Aug. 8-10, meet a member of Team Buckeye and read a story that illustrates one of the many reasons it is important to support this effort.
What does Ohio State mean to you?

Showing Support: Bob Lemon
Bob helped to create Lifeplus International, which makes and distributes nutritional supplements and natural-oriented health care and personal care products. He shares how Ohio State contributed to his success.


Share your pride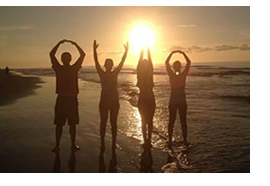 O-H-I-O Sunrise
O-H-I-O on Hilton Head Island. A man running on the beach who saw them take the photo gave them an
"O-H!" They all returned an "I-O!"