Scholarly pursuits
Ohio State students, faculty and staff continue to help the university exhibit excellence in the globally focused Fulbright program.
More Ohio State faculty and staff were named Fulbright Scholars than any other research institution in the country. Fourteen faculty and staff, including two from Ohio State regional campuses, were recognized with the honor and will use the awards to continue their scholarly pursuits abroad.
The university was 14th nationally in producing Fulbright student honorees. The Fulbright U.S. Student Program is the largest U.S. exchange program offering opportunities for students and young professionals to undertake international graduate study, advanced research, university teaching and primary and secondary school teaching worldwide.
Learn more about the ways Ohio State students are broadening their knowledge by visiting an interactive map that illustrates the ways they are providing a positive impact around the globe.
Stay connected with Ohio State
FCC Chair, Ohio State alumnus speaks on campus

Join us on December 2 to hear the newly appointed FCC chair and Ohio State alumnus Tom Wheeler share his vision for the FCC, followed by an engaging discussion with the chair about Washington, leadership and how his time at Ohio State prepared him for his distinguished career in telecommunications and venture capital.
For more information and to register for this FREE event, visit http://go.osu.edu/tomwheeler
Shouldering the load

Even in couples most likely to believe in sharing parenting responsibilities, mothers still bear significantly more of the child care load, a new study reveals. The study of 182 dual-earner couples found that the mothers' additional parenting burden started early, when their first child was less than a year old.
Jump around

Tori Boggs turned down Brown and Yale to attend Ohio State because "it felt like home." The Honors Collegium student is enjoying academic success while balancing her career as a nine-time world jump-roping champion. Take a look at Boggs' amazing jump-roping skills and learn more about her college experience.
Creating opportunity

Since it was founded in 1988, Ohio State's Young Scholars Program has helped nearly 800 students become first-generation college grads. High school students from Ohio's nine largest urban districts participate in the program, which has now earned national acclaim for its success.
Saving a species

Ohio State researchers and students are tagging and relocating 4,000 endangered clubshell and riffleshell mussels back into Big Darby Creek, west of Columbus. It's the largest release of endangered mussels to date in Ohio--and it's possible because of Ohio State's research prowess in the field.
What does Ohio State mean to you?

What does Ohio State mean to medication safety?
Medina Rasul, an Ohio State freshman, has been involved with Generation RX since she was in high school. "I want to combine my interest in pharmacy with my passion for counseling young people," she says. Medina has developed toolkits to coach kids in her high school.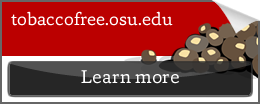 Share your pride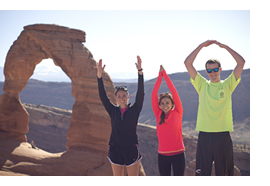 OHIO with the Delicate Arch
Ohio State alumni and friends shared their pride at Arches National Park near Moab, Utah.