Site Navigation
The President and Provost's
2013-14 Diversity Lecture & Cultural Arts Series
This program, now in its fourteenth year, offers the campus and Columbus community opportunities to benefit from some of the most eminent scholars, artists, and professionals who discuss and exemplify excellence through diversity.
Event Schedule: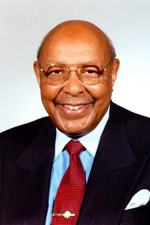 Honorable Louis Stokes
Former Ohio Congressman and Civil Rights Era Leader
Thursday, March 6, 2014
11:00 a.m.
Moritz College of Law - Saxby Auditorium
55 W. 12th Avenue
FREE & OPEN TO ALL
Brief Q&A to follow presentation
Louis Stokes played a pivotal role in the quest for civil rights, equality and social and economic justice throughout his career as a lawyer and a member of the United States Congress.  He was educated in the Cleveland Public Schools, graduating from Central High School.  Following three years of service in the United States Army, he returned to Cleveland and attended Western Reserve University.  He earned his Doctor of Laws Degree from Cleveland Marshall Law School in 1953.
Prior to serving in Congress, Mr. Stokes practiced law for 14 years and was one of the founders of Stokes, Character, Terry, Perry, Whitehead, Young and Davidson law firm.  As a practicing lawyer, Stokes participated in three cases in the United States Supreme Court, including arguing the landmark "stop and frisk" case of Terry v. Ohio.  On November 6, 1968, he was elected to the United States Congress and became the first African American member of Congress from the State of Ohio.  He served 15 consecutive terms in the U.S. House of Representatives.
During his tenure in Congress, Mr. Stokes was the dean of the Ohio Congressional Delegation, a founding member of the Congressional Black Caucus, and he served on the House Select Committee to Investigate Covert Arms Transactions with Iran.  His work in the area of health led to his appointment as a member of the Pepper Commission on Comprehensive Health Care.  Of equal and important note, he was also the founder and chairman of the Congressional Black Caucus Health Braintrust.
Following his service in Congress, Stokes became senior counsel at Squire, Sanders (US) LLP, a global law firm, and Distinguished Visiting Professor at the Mandel School of Applied Social Sciences, Case Western Reserve University.  Mr. Stokes has received numerous awards and honors that recognize his national leadership and strong commitment to public service.  A number of landmarks around the city of Cleveland now bear his name such as The Louis Stokes Cleveland Veterans Administration Hospital, The Louis Stokes Annex of the Cleveland Public Library and The Louis Stokes Health Sciences Center at Case Western Reserve University.  Buildings bearing his name have also been dedicated on the campuses of Wilberforce and Central State Universities in Ohio.  He is the recipient of 27 honorary doctorate degrees from colleges and universities and on July 8, 2003 was honored by Congress with The Congressional Distinguished Service Award.  He is the first African American ever given this honor.
In 2011, he was inducted into the International Walk of Fame at the Martin Luther King, Jr. Center, in Atlanta, Georgia.  Mr. Stokes serves on the Advisory Board to the International Spy Museum; the Board of the Western Reserve Historical Society; the Board of Directors of Forest City Enterprises, Inc. and the Board of Directors of The Legal Aid Society of Cleveland.  He has also served on The National Science Board's Commission on 21st Century Education in Science, Technology, Engineering and Mathematics.
Currently, the Honorable Louis Stokes is enjoying his retirement and only accepting very limited speaking engagements.
---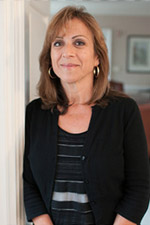 Cristina García
National Book Award Nominee
Wednesday, September 11
4:00 p.m. (Doors Open at 3:15 p.m.)
Ohio Union - Performance Hall
1739 North High Street
Columbus, OH 43210
FREE & OPEN TO ALL
(Book signing & reception to follow)
Cristina García is the author of six novels, including: Dreaming in Cuban, The Agüero Sisters, and The Lady Matador's Hotel. García has edited two anthologies, Cubanísimo: The Vintage Book of Contemporary Cuban Literature and Bordering Fires: The Vintage Book of Contemporary Mexican and Chicano/a Literature. She has penned two works for young readers, both published in 2008, and a collection of poetry entitled The Lesser Tragedy of Death (2010)..
García's work has been nominated for a National Book Award and translated into fourteen languages. She is the recipient of a Guggenheim Fellowship, a Whiting Writers' Award, a Hodder Fellowship at Princeton University, and an NEA grant, among others. Recently, García was a Visiting Professor at the Michener Center for Writers at the University of Texas-Austin as well as the University of Miami. Currently, she is University Chair in Creative Writing at Texas State University-San Marcos.
To learn more about Cristina García and her novels, you can also visit her website at http://www.cristinagarcianovelist.com.
---
For more information contact:
Colby A. Taylor, Program Manager
Office of Diversity and Inclusion
(614) 292.1417
taylor.972@osu.edu