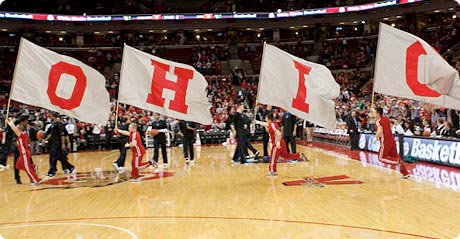 Hoop dreams
When he arrived at Ohio State on a basketball scholarship in 1979, Clark Kellogg solidified the trajectory of success that led him to the NBA and CBS Sports, where he's a TV analyst. "The opportunities that I've enjoyed throughout my life are in large measure due to the fact that I graduated from Ohio State University," he says.
Now, a new generation of Buckeye basketball players looks forward to what the future holds. View photos from the 2011-12 season, and cheer on the men's and women's teams during their upcoming NCAA tournament games. O-H!
Blowing smoke
Ohio State researchers are looking inside smokers' mouths, and the picture's not pretty. Smoking disrupts the healthy bacteria normally plentiful in the mouth, rolling out a welcome mat for harmful pathogens to invade.

Learn more about the study, and get tips to quit.
Time to grow
Lettuce in December, in Cleveland? With help from Ohio State, an urban farming program gives new life to a community, extending the growing season and employing people year-round.

Check out winter farming in action, read about food innovation at Ohio State, and find answers to your own gardening questions.
More than meets the eye
| | | |
| --- | --- | --- |
| | | If you're afraid of spiders and think you see a huge one, your mind might be playing tricks on you. An Ohio State study says phobias can affect perception, making the things you fear seem bigger and scarier than they actually are. |
Life savings

Share your pride

O-H-I-O: Fashion and flexibility

Clothing designer Donna Karan and Urban Zen yoga instructors Rodney Yee and Colleen Saidman Yee share Buckeye pride with President Gee. Karan founded Urban Zen Foundation to bring integrative medicine to health care, and is exploring a partnership with the university.

March 2012