The frontiers of medicine
"Deep brain stimulation" may sound like science fiction--but at Ohio State's Wexner Medical Center, it's changing patients' lives. Led by Dr. Ali Rezai, the neuromodulation team places a small implant in the brain that regulates electrical signals with tiny electrodes.

Learn how this cutting-edge technology is eliminating tremors and could treat Alzheimer's, autism, seizures, migraines, addiction, and more.
No smoking
For coal to release heat, it needs to be set on fire, right? Wrong, says Ohio State Professor L.-S. Fan. He's pioneered a technique called coal-direct chemical looping, which chemically converts coal to heat, preventing air pollution.

Read about the student team who put Fan's method to the test, and what this milestone in clean coal technology could mean for jobs and U.S. energy independence.
Family dinner
One way to prevent childhood obesity is to teach children healthy eating habits at an early age, says Carolyn Gunther of Ohio State's Food Innovation Center. Her Simple Suppers program engages both parents and children in nutrition education and meal preparation during dinner hour.

See how setting the table or tearing lettuce can lead to a lifetime of healthy eating habits for kids.
Campus visit
You don't need to be an Ohio State student to feel like you're on campus. Thanks to upcoming live web streams, alumni can pay a virtual visit to watch exciting guest appearances.

On March 25, world-renowned conservationist Jane Goodall addresses students; visit go.osu.edu/janegoodall at 7:30 p.m. to view her presentation (link will switch to streaming video during event). On April 7, famed artist and architect Maya Lin visits; see her speak at 2 p.m.

Share your pride

O-H-I-O: Buckeye service

1988 aviation grad Pete Bastien led Buckeyes of the Ohio National Guard in an O-H-I-O before they returned home from Afghanistan. Thanks for your service!

March 2013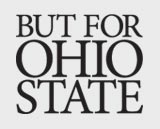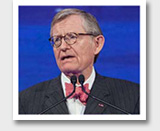 "It is wholly within our power to be the front door to the American dream."
--President E. Gordon Gee