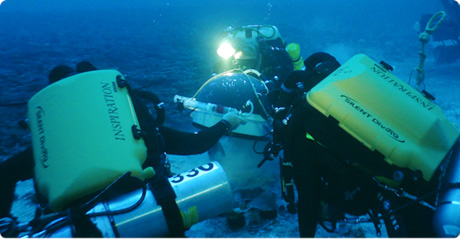 Edge of light
Ohio State oceanographer Andrea Grottoli and her colleagues pushed the limits of technology to study how one species of coral manages to survive so deep in the water—and so far away from sunlight.
This work is just the latest in a series of experiments around the world in which Ohio State researchers are working to understand how coral might adapt to climate change.
Get an underwater look at this deep-sea research.
Flower power
| | | |
| --- | --- | --- |
| | | One of the world's largest and most rare flowers bloomed at Ohio State's Columbus campus in April. No small feat: Since 1937, fewer than 100 "Titan Arums" have flowered in the U.S. |
Deciphering autism
An estimated 1 in 110 children is diagnosed with autism, according to the Centers for Disease Control and Prevention. Thanks to a generous gift, top researchers at Ohio State and Nationwide Children's Hospital are working together to decipher this puzzling illness.

Learn more about autism research and how you can help.
Reality bites
A little knowledge can be a dangerous thing. An Ohio State study found that women with congestive heart failure who repress their emotions, especially anger, may experience depression when they learn more about their illness.

Read how your coping style can affect your health.
Pelotonia profiles
Brandon Dupler is riding to honor his father and father-in- law, both cancer survivors. Peggy Zimmerman is riding in memory of a sister who died of breast cancer. Ted Nikolai is riding for a co-worker who is battling renal cell cancer. All are riding in Pelotonia this August to help end cancer.

Check out more rider profiles and learn how to take part.
Share your pride

O-H-I-O: Peruvian-style

Ohio State students in front of one of the many fountains of the Parque de la Reserva in Lima, Peru, during a volunteer trip to Pisco over spring break.

May 2011