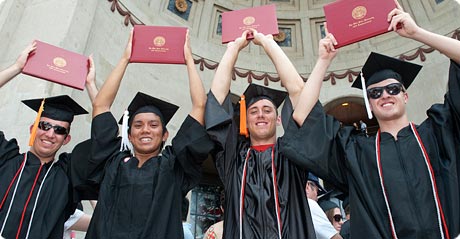 Hats off!
Spring Commencement 2012 wasn't a typical graduation ceremony. For starters, it was Ohio State's 400th commencement. The June 10th event was also Ohio State's last spring quarter commencement, marking the end of a tradition that began in 1923. Another milestone? There were 10,642 Buckeyes in the Class of 2012--the largest spring quarter class ever for the fourth consecutive year.
Also unique this year: President Gee used social media to ask students to share what Ohio State means to them. See what students said, meet some great grads, and read excerpts from past speeches.
Sex and the salamander
If you've never thought of a mole salamander's sex life as riveting research material, think again. An Ohio State PhD student wants to know why these unisexual amphibians collect DNA from other salamander species and use it when cloning their offspring.

Watch Rob Denton describe his project, and learn how crowdsourcing is helping him fund it.
Membership for all
Starting July 1, all Ohio State graduates will be automatic members of the Alumni Association. The new model has three tiers of membership, each receiving some level of member benefits.

Learn more about these inclusive changes, such as how the football ticket lottery will function for life and sustaining members.
The mobile campus
As the role of technology increases in students' lives, Ohio State's new Digital First plan aims to keep up with the shifting learning environment. From iPads to iBooks to iTunes U, students can expect to find more faculty engaged with technology.

View videos about a "flipped classroom" and one college's use of iPads.
Rising stars
From Churchill scholarships to Fulbright grants, Buckeyes are winning accolades that were once the realm of Ivy League students alone. These rising stars have big plans for their awards, including cancer research and advanced computer science.

See the list of Ohio State's top scholars for 2011-2012.
In the fog

Share your pride

O-H-I-O: Ahoy Buckeyes

Even pirates love Ohio State! Alumni Charles S. Tritt and Julianne Hunter share their pride with fellow costumed friends.

June 2012