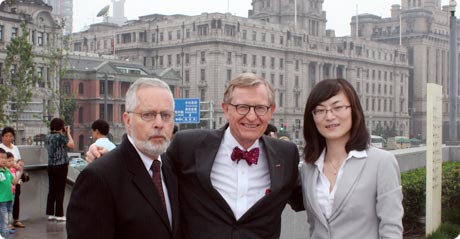 Gateway to the world
Ohio State has launched its first international physical presence: a Gateway office in Shanghai, China.
President E. Gordon Gee, who traveled to China for the opening, calls the Gateway "modest in size, but large in purpose. Through it, we seek to enlarge Ohio State's collaborations across China."
Kissing cousins
| | | |
| --- | --- | --- |
| | | Looks like Darwin was right: Inbreeding in plants or in families can negatively affect the health of offspring. Ironically, some of Darwin's evidence stems from his own marriage to his first cousin. |
Spider man
Some people may consider Richard Bradley's mission a little creepy. The biology professor is tallying the number of spider species in Ohio. Last count: 627, thanks to "volunteers" around the state.

Take part in the Ohio Spider Survey. And follow another Buckeye prof's pet project: the Buckeye Lady Beetle Blitz.
Mother knows best--sometimes
| | | |
| --- | --- | --- |
| | | When it comes to dating, teen girls dish more than boys, and both prefer to talk to their moms. But an Ohio State study reveals that when it comes to talking about sexual issues, neither girls or boys want to talk to either parent. |
Weight watchers
An Ohio State study suggests that a high body mass index (BMI) does not translate into current illness among young adults. In fact, researchers suggest that stress caused by high BMIs may cause more damage than being overweight.

Find out why a high BMI is only part of the equation.
Share your pride

O-H-I-O: Beach season

A student and her siblings created self-portrait sand sculptures--in the O-H-I-O pose, of course--while on vacation at North Myrtle Beach. See more beachy O-H-I-O photos.

July 2010
In this issue: