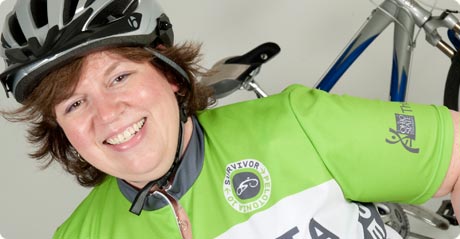 Reason to ride
The name Pelotonia is derived from the French "peloton," a pack of cyclists who ride bunched together to boost speed and endurance. Last year's Pelotonia at Ohio State attracted 4,047 riders--and each rider had a story to tell.
New to cycling, cancer survivor Doreen Agnese, a cancer surgeon at the Ohio State Medical Center, admits the hills were a challenge. But when she thought about the people who had died from cancer, including some of her patients, she thought, "I'm getting up this hill."
This year's Pelotonia begins in Columbus on August 20. Meet some of the riders. And learn how you can help to end cancer.
Engineers at work
Whether building robots or working with industry partners, Ohio State engineering students get real-world experience through design competitions that drive home lessons on teamwork, project management, and technical skills.

Watch the students at work--and see what private-sector engineers have to say.
Creeping beauties
Fear factor
| | | |
| --- | --- | --- |
| | | Instead of calming fears, the death of Osama bin Laden actually led more Americans to feel threatened, according to an Ohio State researcher involved in a nationwide survey. |
Alumni: Share your pride
Share your pride

O-H-I-O: Welcome home, Atlantis

At the Kennedy Space Center, members of the Astronaut Rescue Team welcome home Atlantis, the last flight of the space shuttle program.

August 2011