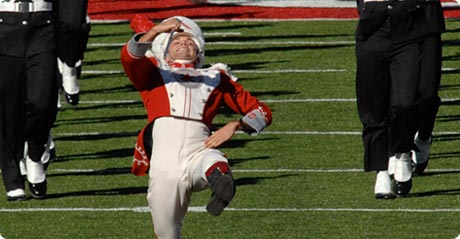 2009 Buckeye football season
Let the tailgates begin! The Buckeyes kicked off their 2009 football season with a victory over Navy. Next up: The Buckeyes line up to face the University of Southern California on Sept. 12. Here's a quick preview of what you need to know:
osu.edu on the go
| | | |
| --- | --- | --- |
| | | Ohio State has introduced a new mobile site for smart phones. Designed for the iPhone, m.osu.edu offers key features of Ohio State's home page, plus info optimized for mobile devices. Like the "You are here" arrow on a conventional map, m.osu.edu adapts to your location, offering tips such as nearest wireless site and bus stop. |
Mothers know best?
| | | |
| --- | --- | --- |
| | | When it comes to raising children, mothers tend to model their moms, according to Ohio State sociologists who followed parents and children over several generations. Among the study's findings: While daughters model their moms' parenting styles, sons don't. |
How "giving back" keeps giving
| | | |
| --- | --- | --- |
| | | When John and Nancy Behling lost their son, they established a scholarship in his name to fund social work at Ohio State. Now, scholarship recipient and recent grad Elena Chu is helping others through a career in social work. Ohio State's Students First, Student Now initiative makes it easy for donors to help students like Elena. |
On the road to a cure
The 2009 inaugural Pelotonia Tour was a great success, with 2,265 riders—including Lance Armstrong—gearing up to outpace cancer. The goal of the NetJets and Ohio State partnership is to raise $40 million in the next five years to fund cancer research at Ohio State.

Follow the latest news and countdown until the next ride.
Share your spirit

O-H-I-O: Gee in India

President E. Gordon Gee traveled to India this summer as part of Ohio State's increased commitment to developing strong global partnerships. Read more in onCampus.

Summer 2009
In this issue:

Ohio State on: