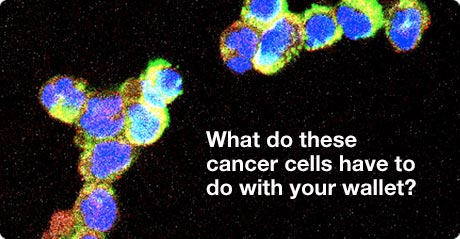 From research to recovery
Bioengineer Jeffrey Chalmers and his Ohio State colleagues are cancer cell sleuths. The devices they've developed to detect head, neck, breast, and other cancers have earned eight patents, created jobs, attracted multi-million dollar funding, and have the potential to save lives. This medical discovery is just one example of how Ohio State innovation bolsters the state's economy.
Thompson Library: Extreme makeover
| | | |
| --- | --- | --- |
| | | The next time you're on campus, stop by Ohio State's "new" old library. The dark stacks are now open and airy, overlooking a light-filled atrium. Originally built in 1913, the renovated library is a dreamscape for scholars—from cozy group-study spaces to a majestic reading room with 30-foot ceilings. |
Dental history
| | | |
| --- | --- | --- |
| | | Dentistry has come a long way since Ohio State acquired a dental school in 1914—and it now takes twice as many years to earn a dental degree. The namesakes of the current dentistry building—the Postles—have found a way to make earning a dental degree a little less painful. |
Eat right to fight flu
| | | |
| --- | --- | --- |
| | | Cover mouth when coughing? Check. Wash hands frequently? Check. Besides the basics, what else can you do to keep your immune system strong during flu season? Experts at OSU Extension offer diet tips to stave off the flu. |
Buckeyes on break
| | | |
| --- | --- | --- |
| | | Alex Hughes studied bears in Yosemite National Park. Niraj Shah wrestled a bear market as a banking intern in New York City. Erin Reilly-Sanders traveled in Europe, finished a year-long goal of reading 100 books, and worked on a solar-powered home for the OSU Solar Decathlon Team. |
Share your spirit

O-H-I-O: Buckeyes to the bone

Researchers in Ohio State's Biodynamics Laboratory created a "low-fat" version of O-H-I-O with biomechanical software designed to illustrate spinal force.

October 2009
In this issue:

Ohio State on: