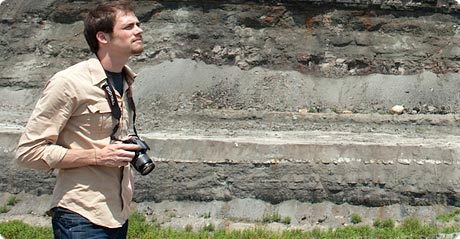 Fulbright future
Hudson McFann is studying environmental issues in Toronto on a Fulbright Grant. The 2010 alum credits his success to his undergraduate experience at Ohio State: He worked closely on a research project with a faculty mentor and received university funding to pursue his study of Appalachian Ohio.
Listen to McFann discuss his undergraduate research and Fulbright Grant. And find out more about students like McFann, who've won prestigious awards that once belonged only to Ivy League schools.
Healthy holidays
Thanksgiving, Hanukkah, and Christmas are just around the corner--along with the pumpkin pie, latkes, hot chocolate, and cookies that can lead to weight gain.

Ohio State experts can help. The Medical Center offers holiday season diet and exercise advice, while OSU Extension has tips on modifying recipes, so you can enjoy your holiday classics without the guilt.
How I got to college
Elon Simms grew up in a financially struggling single-parent home. Now a Columbus social worker, he pays it forward by helping kids through their own hard times.

Watch Simms discuss how a scholarship helped him become the first college grad in his family. And learn about Ohio State's Students First scholarship program.
Beauty sleep
Persistent exposure to light at night may lead to weight gain, even without changing physical activity or eating more food. Ohio State researchers believe light disrupts hormonal levels linked to metabolism.

Get the skinny on a good night's sleep.
Clean machine
Adding ultraviolet light to a vacuum cleaner can almost double the removal of potentially infectious microorganisms from your carpet, according to Ohio State researchers. Vacuums with UV light also show promise in reducing allergens and pathogens.

Read more about the power of UV.
Share your pride

O-H-I-O: Beat Michigan!

November 2010
In this issue: