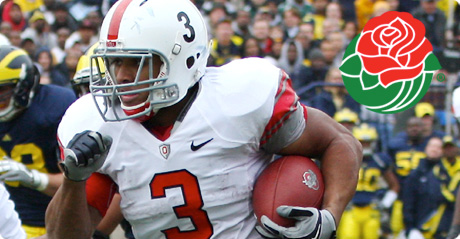 On to the Rose Bowl
The Buckeyes have wrapped up the year with a fifth consecutive Big Ten title. The only thing left is a trip to Pasadena for the 96th Rose Bowl, scheduled for 5:10 p.m. EST (2:10 p.m. PST) on New Year's Day. In their 14th Rose Bowl appearance, the Buckeyes will take on the Oregon Ducks in the country's oldest bowl game, nicknamed "the Granddaddy of Them All."
Follow the Buckeyes' road to victory.
"How I got to college"
| | | |
| --- | --- | --- |
| | | Going to college wasn't the norm in Tera Coleman's hometown. But Tera, a first-generation college student, earned a full scholarship--one of the 82 percent of Ohio State students to receive financial aid. Tera plans to return to Appalachian Ohio and work as a lawyer. |
Turbulent teens
| | | |
| --- | --- | --- |
| | | Adolescence can be a tricky passage. The question is: How do you help your children navigate a safe course? Knowing the risks is an important first step, say experts at Ohio State Extension. And talking with your teen about risky behavior is one of the best ways to prevent it. |
Caught in the Web
Holiday sense
| | | |
| --- | --- | --- |
| | | The holidays are right around the corner. The good news? A recent Ohio State economics study indicates that Americans are less stressed about their finances. The bad news? 'Tis the season for budgets to burst. |
Share your spirit

O-H-I-O: Spells like team spirit!

Buckeye fans spell out their pride in front of Ohio Stadium on game day. Watch the video.

December 2009
In this issue:

Ohio State on: