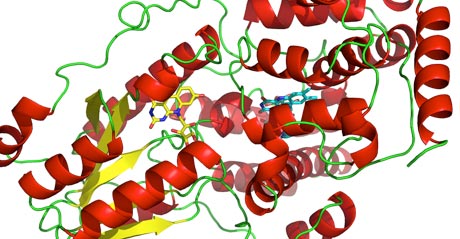 Research matters
Researchers at Ohio State are working on some of the world's most pressing challenges in agriculture, medicine, and the environment.
They are working across disciplines to meet the critical demand for clean energy. They are cultivating technology that transforms Ohio crops into bio-based fuels and products. And they are searching for answers to everyday questions about raising children and preventing sun damage.
See some of Ohio State's 2010 research highlights. Read President Gee's thoughts on turning research into results.
Unauthorized access to university server
In late October, a routine computer security review uncovered suspicious activity on a university server that contains personal information -- Social Security number, date of birth, and address -- of approximately 760,000 current and former faculty, staff, and students, alumni, and others affiliated with the university. Expert cyber consultants were hired, and after a thorough investigation, concluded there was no evidence that any personal information was acquired. However, individuals whose personal information was on the server are being offered 12 months of a credit-monitoring plan at no charge. Not all alumni were affected, but those who were will receive important written notification about this plan within the next few weeks. In a statement, Provost Alutto said, "We are committed to maintaining the privacy of sensitive information and continually work to enhance our systems and practices to reduce the likelihood of such events occurring. We regret that this has occurred and are exercising an abundance of caution in choosing to notify those affected. We also are working with a nationally recognized data security firm to further strengthen all of our systems." For more information, visit: https://www.osu.edu/creditsafety
On to the Sugar Bowl!
| | | |
| --- | --- | --- |
| | | Once again, the Buckeyes have ended the season with a victory over Michigan (seventh consecutive) and a Big Ten title (sixth consecutive). Next up: the Sugar Bowl in New Orleans on Jan. 4. |
Sweet-tempered
| | | |
| --- | --- | --- |
| | | A spoonful of sugar may cool a hot temper, according to new research at Ohio State. Researchers believe that people who have trouble metabolizing glucose show more evidence of aggression and less willingness to forgive. |
Savvy Santa
| | | |
| --- | --- | --- |
| | | If you tend to splurge over the holidays, it may be the season to rein in your shopping bags. Experts from Ohio State Extension recommend making a list and checking it twice to avoid overspending. |
Air/diet alert
Ohio State researchers have discovered another hazard of air pollution: It can lead to weight gain. Studies suggest that pollution exposure early in life leads to abdominal fat and insulin resistance in mice, even if they eat normal diets.

Can smog make you fat? Find out more.
Share your pride

O-H-I-O: Winter on campus

Last winter, freshmen built this icy mascot. As they said, "What better way to enjoy the snow than build a snow Brutus and show off some Buckeye spirit?"

December 2010
In this issue: