Site Navigation
The President and Provost's
2014-15 Diversity Lecture & Cultural Arts Series
President Michael Drake and Provost Joseph Steinmetz invite you to attend this series, in its fifteenth year, at The Ohio State University. This program offers the campus and the Columbus community opportunities to benefit from some of the most eminent scholars, artists, and professionals who discuss and exemplify excellence through diversity.
Event Schedule: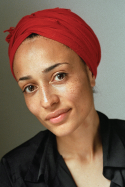 Zadie Smith
Acclaimed author of White Teeth (2000)
"A Conversation on Race, Writing and Culture"
Thursday, November 13, 2014
5 p.m.
Doors open at 4 p.m.
Mershon Auditorium
Wexner Center for the Arts
1871 N. High St.
to the public.

Light refreshments available prior to start of program.
Book purchases and signing at program conclusion.
Online RSVP recommended.
tickets.wexarts.org
Co-presented by:
The Humanities Institute,
with additional support from the MFA Program in Creative Writing
and The Wexner Center for the Arts
Novelist Zadie Smith was born in 1975 to an English father and a Jamaican mother. It is her own heritage and upbringing that influenced the vibrant portrait of life in contemporary multicultural North London in her acclaimed first novel, White Teeth (2000), published shortly after she concluded her studies in English at Cambridge (1997). The story is told through the lenses of three ethnically diverse families and the book won a number of awards and prizes, including the Guardian First Book Award, the Whitbread First Novel Award, the Commonwealth Writers Prize, and two BT Ethnic and Multicultural Media Awards. White Teeth has been translated into over twenty languages and was later adapted for television. Smith has also served as Writer in Residence at the Institute of Contemporary Arts. She has gone on to write Piece of Flesh (2001), the introduction for The Burned Children of America (2003), and The Embassy of Cambodia(2013), which sold over 40,000 copies in the first year of publication.
---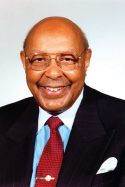 Honorable Louis Stokes
Former Ohio Congressman
& Civil Rights Leader
Thursday, March 5, 2015
11:30 a.m.
The Faculty Club
181 S. Oval Mall
Stokes to be interviewed by:
Dr. Philip T. K. Daniel
William and Marie Flesher Professor of Educational Administration
College of Education and Human Ecology
Adjunct Professor in the Moritz College of Law

RESERVED SEATING ONLY
due to limited space available
For more information contact taylor.972@osu.edu
Louis Stokes played a pivotal role in the quest for civil rights, equality and social & economic justice through his career as an attorney and the first African American to be elected to US Congress for Ohio in 1968, for which he served 15 consecutive terms. Stokes was educated in the Cleveland Public Schools, and served in the US Army following graduation before returning to earn a BA from Western Reserve University and JD from Cleveland Marshall Law School. Prior to serving in Congress, Stokes participated in three US Supreme Court cases, including arguing the landmark "stop & frisk" case of Terry v. Ohio. During his tenure in Congress, Stokes chaired a number of high level committees and was a founding member of the Congressional Black Caucus. Following his Congressional service, he became the senior counselor at Squire, Sanders LLP, a global law firm, and a Distinguished Visiting Professor of Social Sciences at Case Western Reserve University. Mr. Stokes was recently named the 2013-2014 Kent State President's Ambassador by its President, Dr. Lester A. Lefton. The President's Ambassadorship is a one-year, part-time appointment designed to bring distinguished local minority leaders and professionals to share their knowledge and experience with the Kent State community. Stokes also holds 27 honorary doctorates and has a number of Ohio landmarks that now bear his name.
---
For more information contact:
Colby A. Taylor, Program Manager
Office of Diversity and Inclusion
(614) 292.1417
taylor.972@osu.edu