Campuswide email: April 22, 2016
Dear Faculty, Staff and Students,
In February, we shared the news that we will continue to work on the Comprehensive Energy Management Project because it could be a key to helping us achieve our sustainability goals.
Today, we are writing to provide a few updates before the end of the semester.
The project team is currently working with our advisory groups to develop a Request for Proposals that details the university's high standards for sustainability, quality of service and cost. The project team will continue working over the summer on this document, but we will not issue the RFP until students and faculty have returned to campus in the fall.
At that point, six multi-firm teams will have an opportunity to submit bids. These are the finalists from the previous phase, in which 10 teams provided information about their expertise, capabilities and thoughts about meeting our sustainability and energy needs.
The university has also provided our utilities employees with clarity about their options if we decide to enter into a partnership. Ohio State has made two commitments that would empower these employees to make the best choice for their families:
Our employees are guaranteed an interview with any partner, and the bidders have expressed strong interest in maintaining the expertise of our current staff.
For any affected utilities employees who want to remain university employees, Ohio State will find suitable positions that will provide the same pay as their current roles.
A final note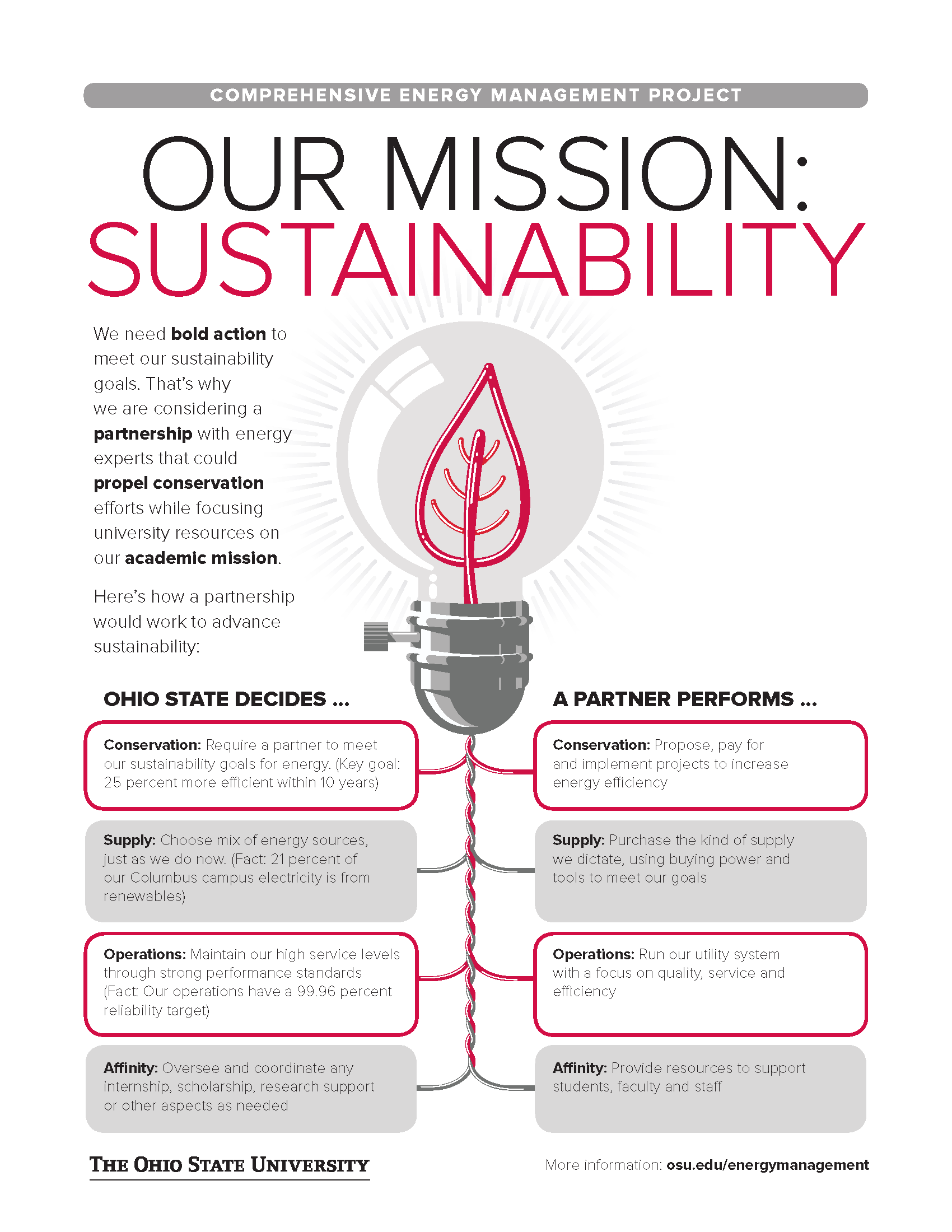 Sustainability is at the core of this project, and the university will pursue a comprehensive energy partnership only if it will help us become a greener campus.
Consider the impact of improving the energy efficiency of our campus buildings by 25 percent within 10 years, which is a sustainability goal that any partner would be required to meet.
If we could achieve that today, our carbon footprint would be reduced by 40 percent. That's the equivalent of taking more than 55,000 passenger vehicles off the road for a year. Click here to learn more.
We'll pursue that energy efficiency goal regardless of this project, but we feel an obligation to explore options that could accelerate our progress toward our sustainability goals while allowing the university to focus on our academic mission.
Thank you, and as always, we welcome your thoughts. Comments or questions about the project can be sent to energymanagementplan@osu.edu.
Bruce A. McPheron, PhD
Interim Executive Vice President and Provost
Geoffrey S. Chatas
Senior Vice President and Chief Financial Officer
Jay Kasey
Senior Vice President, Administration and Planning