Researching a cure for cancer at Ohio State's Wexner Medical Center. Organizing a chamber music festival in San Francisco. Taking classes in England.
For Ohio State students, summer "break" meant time to get out and experience the world--through research projects, service, internships and study abroad. Click the map to see how some Buckeyes spent the summer, in their own words.
Stories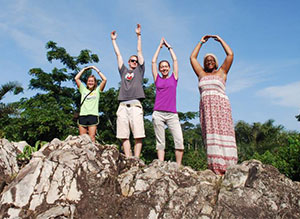 India Brown

Major: Philosophy and Psychology
Uganda
"This past Maymester, I took a wonderful trip through Global May Uganda, which took me to various cities in Uganda and Makerere University. I studied the culture, people and politics of Uganda through the broad lens of human security. From the Mbeira rainforest with swinging monkeys and biting safari ants to the waterfalls and sunsets, it was a very beautiful place." Find out more about this opportunity.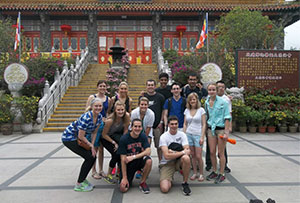 Delaney Cook

Major: Business Administration
Hong Kong
"I traveled to Hong Kong with 45 other students as part of the Fisher College of Business Summer Global Internship Program. We completed a class and were later placed in internships at various companies around Hong Kong. I was lucky enough to be placed at Deloitte as a marketing intern. From the Big Buddha to street markets to the wide variety of food in Hong Kong, our group immersed ourselves in the unique mix of Chinese and Western culture."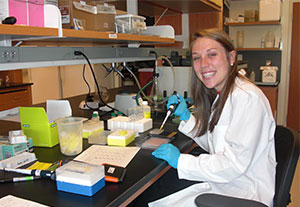 Julie Corbett

Major: Biology
The Ohio State University
"I began my year-long cancer research fellowship funded by Pelotonia at Ohio State, which is a collaboration between researchers at Ohio State and the University of Maryland to study neuropathic pain that can result as a side effect of chemotherapy. I collected preliminary data and was able to work with some amazing scientists. I also rode 100 miles in the Pelotonia bike ride to help pay it forward in support of future cancer research projects at Ohio State."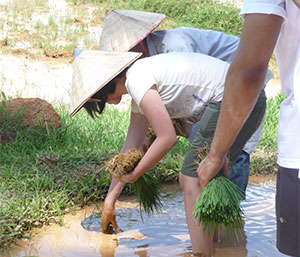 Christine Fung

Major: Biomedical Science (Honors Collegium)
Laos
"I studied abroad in Laos, which a scholarship from the Honors Collegium helped fund my program fees. At the Lao-American College, I enrolled in a Lao language class and a Lao history and culture class taught by a premier scholar on Lao history. Aside from classes, I also volunteered at a Hmong organization that promotes education among Hmong women and provides a shop for the village women to sell their handicrafts to tourists."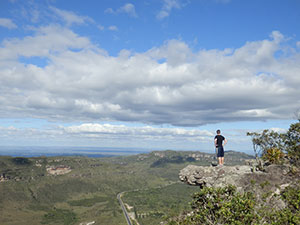 Andy McDonald

Major: Marketing and Logistics
Brazil
"I participated in the Global May Brazil program, and the athletic department afforded me this opportunity through a scholarship. We visited three cities: Sao Jose do Rio Preto, Sao Paulo and Salvador, where we studied one of the world's fastest economically growing and most culturally vivacious countries. From visiting local schools to experiencing a crazed soccer game, I learned academically, grew personally and culturally and enhanced my overall Ohio State experience. I will cherish these memories forever."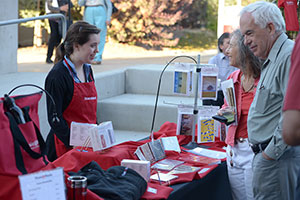 Ellen Milligan

Major: English and French
San Francisco, CA
"I interned with Music@Menlo Chamber Music Festival and Institute, a world-renowned classical music organization. Some of my responsibilities were corresponding with media, helping edit and lay out the season program book, developing my own grassroots marketing campaign and writing blog posts for the web. I worked with experienced professionals and musicians, listened to some fabulous chamber music and learned an unbelievable amount about design, marketing, public relations and arts administration."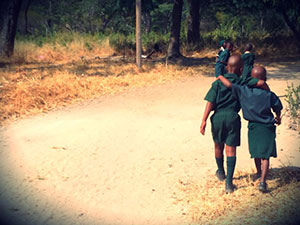 ShaRayna Oree

Major: Human Development and Family Sciences
South Africa
"I had the opportunity to attend the South Africa History and Culture Program, traveling to Zambia, Zimbabwe and South Africa. We visited places where we experienced the everyday lifestyle of the native people and learned about their history. There were many jaw-dropping, heart-wrenching, joy-filled moments; most importantly, I experienced moments of self and societal revelation. The trip was so life-changing that I plan to return in the near future."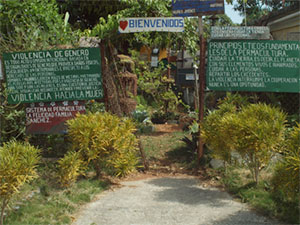 Henry Peller

Major: Horticulture
Cuba
"With financial support from the College of Arts and Sciences, I embarked on a summer devoted to the paradoxical story of the Cuban food system. As a member of an internship program on Cuban sustainable agriculture, my own story was that of pounding nails into rough timbers, salsa dancing and stilt walking under moonlight and conversing in countless gardens. This was my most diverse and intense learning experience, and the lessons I reaped will inform my future pursuits."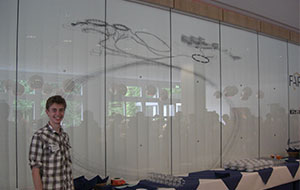 Jonathan Timcheck

Major: Physics
Germany
"I completed an internship with the physics experiment PANDA at the Institut für Kernphysik of Forschungszentrum Jülich in Germany. I developed a graphics card implementation of an algorithm to identify and reconstruct charged particles as they pass through the detector. This will help us better identify when an interesting phenomenon has occurred and save its data for later analysis. I am confident that my time spent studying this will be worthwhile for my physics career."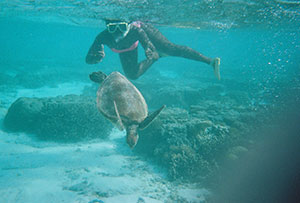 Kelly Ward

Major: Biology
Australia
"I traveled to the Down Under--Australia! I took classes on sustainability, preserving the environment and field animal behavior. I visited some of Australia's most famous places: the Sydney Opera House and the Great Barrier Reef. I also had the chance to visit some of Australia's other World Heritage sites like Lamington National Park. This program has encouraged me to be more active about preserving our environment so we can continue to enjoy all the wonders of the world."
Shelby Bradford
Major: Communication and English
University of Greenwich, London
Lauren Brown
Major: Neuroscience
Panama
Hayley Cross
Major: Human Development and Family Science
Ireland, London, Barcelona and Paris
Annelise Del-Rio
Major: Zoology
Silver Springs, MD
Leeza Filonenko
Major: English and Marketing
Vilnius, Lithuania
Nikki Kanakkanatt
Major: Public Affairs
Manipal, Karnataka, India
Anujanaa Baskaranathan
Major: French and International Studies
Prague, Czech Republic
Michael Lemon
Major: Industrial Design
Nepal
Rachel Metzler
Major: _______
Petersburg, PA
Sarah Mulhall
Major: Psychology
Paris, France
Emily Nosse-Leirer
Major: Geography
New Orleans, LA
Ronny Oppong
Major: Fashion and Retail Studies
New Albany, OH
Logan Pfeffer
Major: Microbiology
Wooster, OH
Taylor Sawyer
Major: English and Public Affairs
Ecuador
Leela Singh
Major: Theater
India
Courtney Vaughn
Major: Molecular Genetics
Copenhagen, Denmark
Join the conversation
More info: