Page content
Partisan media can influence viewers to reject facts
A new nationwide study suggests why heavy users of partisan media outlets are more likely than others to hold political misperceptions.
It's not because the people using these sites are unaware that experts have weighed in on the issues. And using ideologically driven news only sometimes promotes misunderstanding of what the evidence says.
"Partisan online media drive a wedge between evidence and beliefs," said R. Kelly Garrett, lead author of the study and professor of communication at The Ohio State University.
"The more people use these sources, the more likely they are to embrace false claims, regardless of what they know about the evidence."
Partisan media have effects on both Democrats and Republicans, the researchers found.
Strikingly, use of partisan media contributed to misperceptions above and beyond the influence of partisanship itself.
"What you believe isn't just about what party you belong to. Where you get your news matters, too," Garrett said.
Garrett conducted the study with two former graduate students: Brian Weeks, now with the University of Michigan, and Rachel Neo, now with the University of Hawaii at Manoa.
Their results appear online in the Journal of Computer-Mediated Communication and will be published in a future print edition.
Garrett said that the study's focus on changes in media use and political beliefs over time gives the researchers a unique opportunity to understand how these two factors influence one another.
Data came from a three-wave panel study conducted during the 2012 presidential election. Participants were interviewed first during July-August 2012, a second time in August-October and a final time in November. A total of 652 nationally representative participants completed all three surveys.
All participants were asked about their knowledge of and beliefs about four different issues in the campaign, two of which favored Republicans and two that favored Democrats.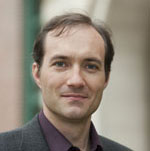 R. Kelly Garrett
Communication
---