Scholarship Recipient, Keyauna Ramos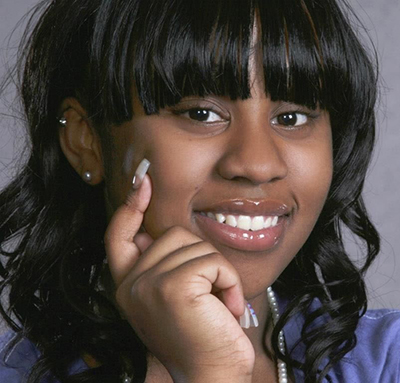 Keyauna will never forget the moment she opened an email that read, "Congratulations! You've been selected..." - and she couldn't help but cry tears of joy. When she called her mom to share the good news, she started crying too. "The Mariana and George S. Kaufman Scholarship means more to me than anyone will ever know, because without it I don't think I would've been able to afford school. I am eternally grateful for the opportunity given to my family and me," Keyauna said.
Keyauna is from Bronx, New York and attended the Business of Sports School prior to attending The Ohio State University. She is the youngest of three siblings and was raised in a single-parent household. Keyauna loves to dance and sing, and spends her time volunteering with a youth committee in New York City that works to end senseless violence in the community.
"I know you're probably wondering how a New York City girl found her way to the heart of Ohio. Well, I knew I wanted to be a Buckeye the moment I stepped foot on campus for a tour. What solidified my decision was seeing the community that comes along with being a Buckeye. The amount of support offered by the school, the level at which professors care for their students, and the never-ending opportunities were all added bonuses." Keyauna is involved in quite a few organizations on campus. She sits on the advisory board for the Program for Advancing in Scholarship and Service, she is a mentor in the Media, Marketing and Communications Scholars Program and she is a general body member in the Black Student Association. She found that her involvement at Ohio State made her transition from New York City to Columbus easy.
Post-graduation, Keyauna has plans to pursue a career in public relations. "A goal of mine is to become a well-known public relations specialist. A long-term goal of mine is establishing my own PR firm. I also want to start a nonprofit shelter for youth, families and the disabled. I have a passion for working with youth and the disabled; I've been doing so since my early teenage years. I really want to give back to the community and leave my footprint on the world. Being from a single-parent household with a mom who's also enrolled in college is not the easiest financially and this scholarship was able to calm our worries. This scholarship gave me the opportunity to not only further my education but to continue on my journey of improving myself physically, emotionally and mentally. The Mariana and George S. Kaufman Scholarship has given me hope and the chance to achieve the successful future I have planned. I'm forever grateful to be blessed with the support of scholarship at Ohio State."
To read further about the profound difference scholarship support makes across the Ohio State community, explore the giving map.
If you would like to make an impact and support scholarships for students, contact Leslie Kreinberg at kreinberg.3@osu.edu or at 614-247-6600