Details of the partnership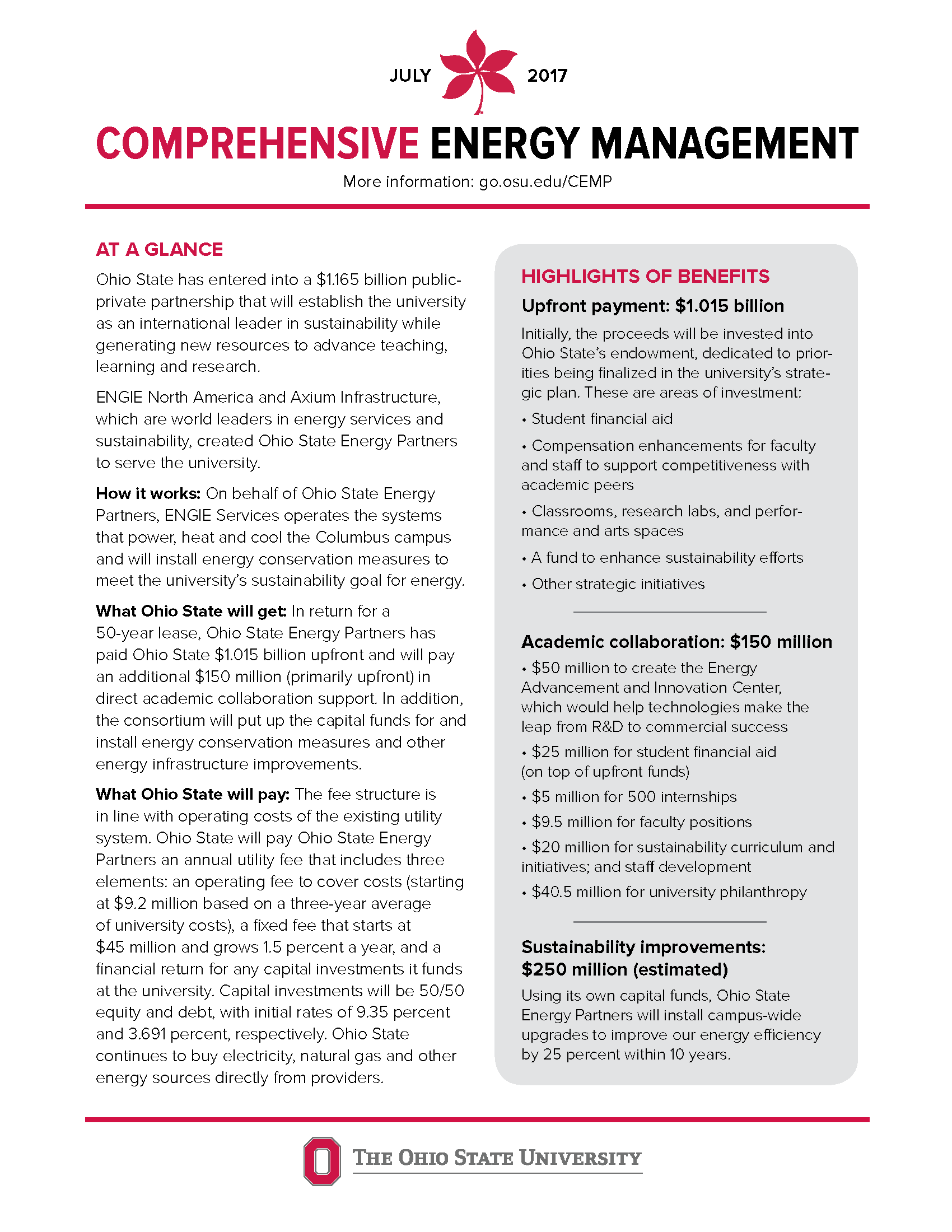 The university started evaluating the Comprehensive Energy Management Project in 2014 and launched a partnership with Ohio State Energy Partners in July 2017. OSEP (made up of the ENGIE-Axium team) has three primary responsibilities to related to the university's energy system:
Operations: OSEP must efficiently and effectively operate the systems that power, heat and cool Ohio State's Columbus campus under a 50-year lease of the university's energy assets. The consortium must meet or exceed the university's already high performance standards under the terms of the contract.
Sustainability: Propose, provide the capital funding for and implement energy conservation measures to improve Ohio State's sustainability. In the first 10 years, these measures must improve Ohio State's energy efficiency by at least 25 percent. The university will review each capital project and would approve only those that will provide appropriate environmental and financial benefits.
Supply: The university will continue to buy electricity, natural gas and other energy sources directly from providers, and Ohio State will continue to determine its priorities in terms of renewables vs. traditional sources. OSEP will work to enhance Ohio State's effectiveness in the procurement process.
The university structured this arrangement so that the incentives all point to sustainability and high-quality, efficient operations.
By providing capital funding for energy conservation measures, OSEP will create a dedicated funding stream for sustainability improvements. Under the university's traditional capital improvement model, these improvements have competed with academic priorities for funding.
Resources for Ohio State's academic mission
The total value of $1.165 billion includes a $1.015 billion upfront payment to the university and a $150 million commitment to support academics in specific areas requested by students, faculty and staff during the bidding process. This is the largest single investment in our academic mission.
Initially, the proceeds of the upfront payment will be invested into Ohio State's endowment, dedicated to priorities being finalized in the university's strategic plan. These areas of investment include the following:
Student financial aid to support access, affordability and excellence
Compensation enhancements for faculty and staff to support competitiveness with academic peers; a portion of this will be tied to improvements in teaching effectiveness
Classrooms, research labs and performance and arts spaces across disciplines (in combination with other sources of funding)
A fund to enhance sustainability efforts
Other strategic initiatives
Read the details of the $150 million academic collaboration plan
Ohio State's fee structure
Ohio State will pay OSEP a fee each year that is made up of three components:
A fixed fee that will start at $45 million a year and escalate by 1.5 percent per year to cover inflation
An operating fee that will start at about $9.2 million, reflecting the university's average operating and maintenance costs for the past three years. This will be adjusted throughout the concession based on actual costs of the operation, as approved through an annual budget process with the university.
And a variable fee that will be directly tied to approved capital investments that ENGIE-Axium makes on the Ohio State campus. OSEP will fund those projects with a 50/50 split of debt and equity.

The initial return on equity will be 9.35 percent. After five years, it will be set to a 10-year average for a five-state region that includes Ohio.
The initial cost of debt will be 3.691%. After five years, it will be set to a corporate investment grade index.
The university designed the fee structure to be in line with operating costs under its current model and to provide a financial incentive for the implementation of energy conservation measures. Going forward, investments in energy conservation measures will be factored into fees paid by the university, but these efficiency programs would reduce Ohio State's future purchases of electricity, natural gas and water.
Ohio State will evaluate each project to ensure that it has environmental and financial benefits that justify the cost.