Page content
Making a special delivery in support of health care workers
The faces in the photo were instantly familiar to Jeremy Hitchens – warm, kind, enthusiastic.
But the circumstances under which he was now seeing these nurses were far different from the last time he had seen them.
Hitchens, '15 BS, knew this group from his time as a patient at The Ohio State University Comprehensive Cancer Center – Arthur G. James Cancer Hospital and Richard J. Solove Research Institute (OSUCCC – James). He was diagnosed in 2018 with rhabdomyosarcoma, a form of soft-tissue sarcoma (cancer) made up of cells that normally develop into skeletal muscle.
---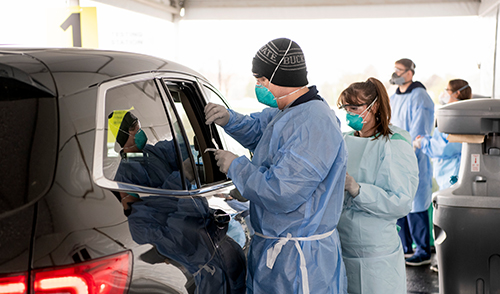 Support our medical professionals
Your gift can greatly help those battling on the front lines of the COVID-19 crisis.
---
Shortly after he completed the treatment that left him cancer-free, the coronavirus pandemic hit. Hitchens knew he wanted to support the OSUCCC – James, an institution that was vital to him even before his diagnosis. He'd volunteered there as an undergraduate, and attended the Buckeye Cruise for Cancer multiple times as part of the Ohio State cheer team.
"I just fell in love with how caring and compassionate the staff was," he says. "Between our time on the cruise and my time in the hospital, it has shown how amazing the staff is. It truly is like an extended family."
Hitchens works closely with Tina Provost, the president of the Cheer and Brutus Alumni Society, and together the group decided to support the front-line health care workers who were responding to the COVID-19 outbreak.
The group donated a batch of beverages from local company Zest Juice Co., which had partnered frequently with the society. Provost thought would be a small gesture. It didn't feel like one.
"With the stress of everything going on, it was really fulfilling to see the folks that greeted us there," she says.
It was an opportunity to come together as Buckeyes, and for Hitchens, it had an added bonus. As a thank you for the gift, the nursing staff on the fifth floor at The James sent him photos of the team with the juices.
Staring back at him were many of the same faces who had administered his outpatient chemotherapy not long before.
Published: June 23, 2020
---
Get to know Ohio State
Discover all that Ohio State has to offer you by exploring the Columbus campus from the comfort of your home.
More:

Together As Buckeyes