---
Important Dates
Wednesday, September 2
Last day for colleges to notify University Registrar in writing of departments wishing to lockout students from SP registration (2-9330 or registrar@osu.edu).
Wednesday, September 2
Colleges should begin assigning the COL student group to students who need college priority for Spring registration. Deadline 9/18.
Friday, September 4
Deadline for registering for pass/non-pass and audit options for Autumn Session 1 (for undergraduates only).
View more important dates
Academic calendar
Download important dates for iCal
---
Image of the Day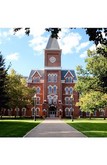 ---