Most popular links
---
Links
Academics
Finances
Health, Wellness, and Safety
Life at Ohio State
Policies, Procedures, and Rules
Technology
Hardware
Training and Job Opportunities
---
Ohio State app
Put campus in your pocket with the Ohio State app. Easy access to everything Ohio State offers, from viewing grades and class schedules, to real-time bus locations. Features include:
View grades and classes and athletic schedules
Discover nearby shops, restaurants, and buildings
Find people, news, events, and libraries
Campus map and real-time bus locator
Buckeye Stroll
O-H-I-O photos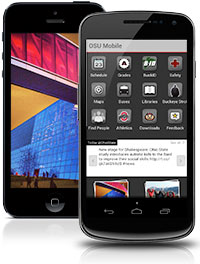 Important Dates
Wednesday, February 22
Summer enrollment appointments begin for graduating students.
Thursday, February 23
Summer enrollment appointments begin for Academic Level Senior, GRD and GRD/Prof.
Friday, February 24
Last day of regularly scheduled Spring Session 1 Classes.
View more important dates
Academic calendar
Download important dates for iCal
---
#MyOhioState

Upload