---
Important Dates
Thursday, August 6
Grade Posting Deadline for all graduating student grades is 5:00pm today.
Friday, August 7
Common final dates and times confirmed to departments for Autumn semester (Friday, three weeks prior to start of Autumn semester).
Tuesday, August 25
Autumn Full Semester and Session 1 begin.
View more important dates
Academic calendar
Download important dates for iCal
---
Image of the Day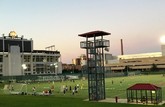 ---
O-H-I-O!