Most popular links
---
Links
Academics
Finances
Health, Wellness, and Safety
Life at Ohio State
Policies, Procedures, and Rules
Technology
Hardware
Training and Job Opportunities
---
Ohio State app
Put campus in your pocket with the Ohio State app. Easy access to everything Ohio State offers, from viewing grades and class schedules, to real-time bus locations. Features include:
View grades and classes and athletic schedules
Discover nearby shops, restaurants, and buildings
Find people, news, events, and libraries
Campus map and real-time bus locator
Buckeye Stroll
O-H-I-O photos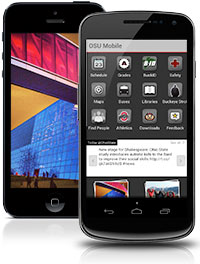 Important Dates
Saturday, October 22
If dropping a session 2 class, the First Friday is the last day to receive a 100% refund and then the 50% refund period begins.
Monday, October 24
Spring enrollment appointments for Undergraduate Senior, Graduate, and Professional students begin and continue through October 28th.
Wednesday, October 26
Finals day, time, and location posted in SIS for Autumn semester, send email to department contacts (Wednesday, ninth full week of the semester).
View more important dates
Academic calendar
Download important dates for iCal
---
#MyOhioState

Upload