---
Important Dates
Wednesday, July 8
Final exam days, times and locations posted in SIS for Summer semester, send email to department contacts (Wednesday, fourth week of 7WS Summer session).
Friday, July 10
Common final exam requests must be submitted for Autumn semester (Friday, one month before common final exam requests confirmed).
Monday, July 27
All name changes must be processed by 5:00pm for the production of the Awarded list.
View more important dates
Academic calendar
Download important dates for iCal
---
Image of the Day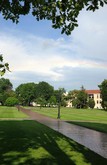 ---
O-H-I-O!